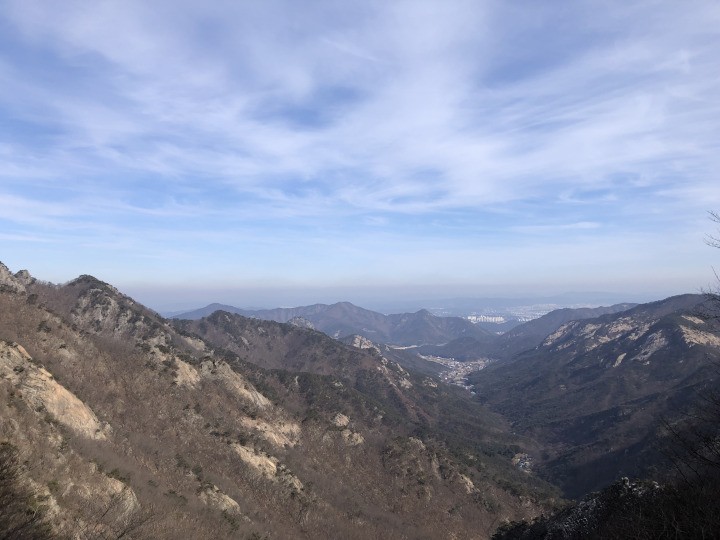 Gyeryongsan National Park
What does 'Gyeryongsan' mean? Gye(계) means 'Chicken' and Ryong(룡) means 'Dragon' in Korean. This interesting name came from back in the early Joseon dynasty. The first king of the Joseon dynasty, Taejo visited the area to establish a capital in Sindoan(Gyeryong-si) with the ambassador and monk Muhak. Muhak said the mountain is in the shape of the golden chicken incubating its eggs and a dragon flying to the sky. The mountain is named after the two main subjects from the story, the chicken and the dragon.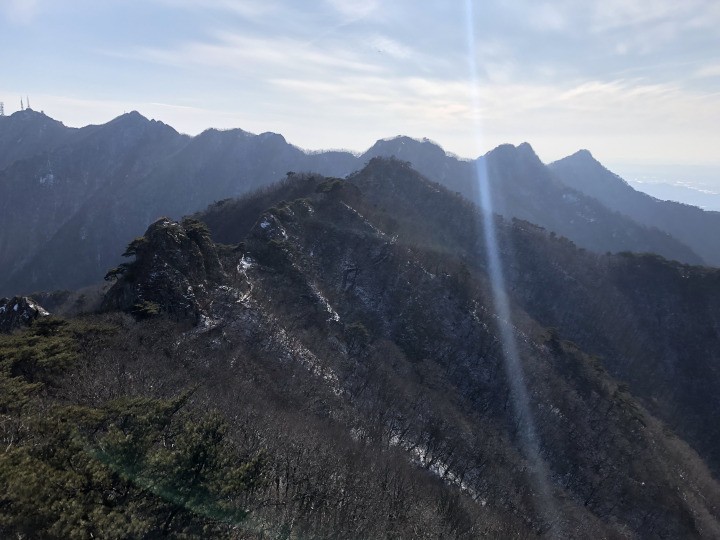 The tallest peak is called 'Chenwang-bong' which is 847m tall. Gyeryongsan has 16 peaks including the tallest peak and 10 valleys. This is secondly designated as a national park in South Korea after Jirisan National park back in 1968. The national park is mostly located in Gongju-si, Chungcheong-Namdo. But some parts of the mountain are included in Daejeon, Nonsan and Gyeryong-si.
Holiday in Daejeon
A few nights before Seollal, the Korean New Year, Justin and I set on the kitchen table and made a plan for how we will well spend the longest national holiday in South Korea. Our priority was which activity we are going to do. We had three days total since we were going to spend Seollal with my parents in Seoul. So, we decided to visit Daejeon and hike Gyeryongsan which is not too far from Seoul and not too middle of nowhere.
Daejeon is not a strange place for us. Last November in 2021, we had actually visited for my cousin's wedding ceremony and wandered around a bit in Daejeon.
How to get to Daejeon?
Daejeon is a really convenient place to visit from Seoul. We can take an express bus from Sangbong bus terminal(상봉 시외버스 터미널) which is about 12 minutes away by bus from where I live. The Sangbong bus terminal was established in the 1980s and it is now used only for a few areas in South Korea. During the research, I found out that one of the scenes in 'Squid Game(오징어 게임)' was filmed in this bus terminal! You can also take KTX to Daejeon. When we checked the ticket for KTX to Daejeon most of the seats weren't available since it was one of the most important national holidays.
To book the bus ticket or KTX I used an app which is called 'Yanolja (야놀자)'. They offered a 5% discount for the bus tickets, but honestly, I couldn't stand the official Seoul bus terminal apps. Once you book the bus ticket through the app, it will give you the QR code. Then when you take the bus you can scan the QR code instead of giving the actual bus ticket to the driver. After two hours of relaxation, you will find yourself in Daejeon complex terminal.
How to get to Gyeryongsan National Park from Daejeon
Our accommodation was nearby Wolpyeong station(월평역) in Daejeon. We took a bus no.107 from Daejeon daily(대전 일보) to Donghak-sa bus stop. It only took us half an hour. There are many buses going to Donghak-sa from Daejeon. You can also check through 'Kakao Map' or 'Naver Map'. It will show you the best way to get to the mountain.
Donghak-sa Course
Among the hiking courses in Gyeryongsan national park, Donghaksa course(동학사 코스) is the most popular one for many hikers. I guess it is because it is very easy to get to from the centre of Daejeon and you can start off from the peaceful and lovely Buddhist temple and education centre for monks and nuns, Donghaksa(동학사)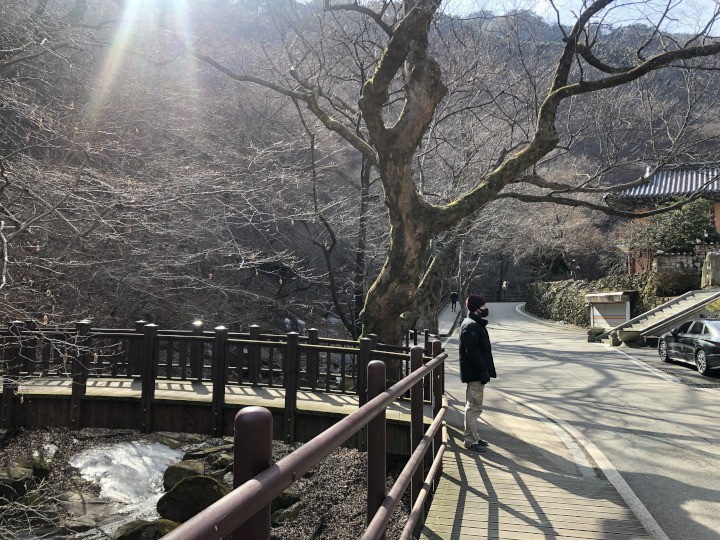 Basically, Donghaksa courses 1 and 2 start in the same way. These two begin from Donghaksa, walk pass Unseon waterfall (은선폭포) and finally the peak, Gwanumbong(관음봉), 766m. But whilst course 1 is going down through the same way which you climbed up before course 2 is going down through different way. After Gwanumbong(관음봉), you are going to hike to another peak called Sambulbong(삼불봉), walk pass Nammae Top(남매탑) and coming back to Donghaksa where you started earlier. We decided to hike course 2 since we could experience more variety of the mountain and we found this way was less icy and steep.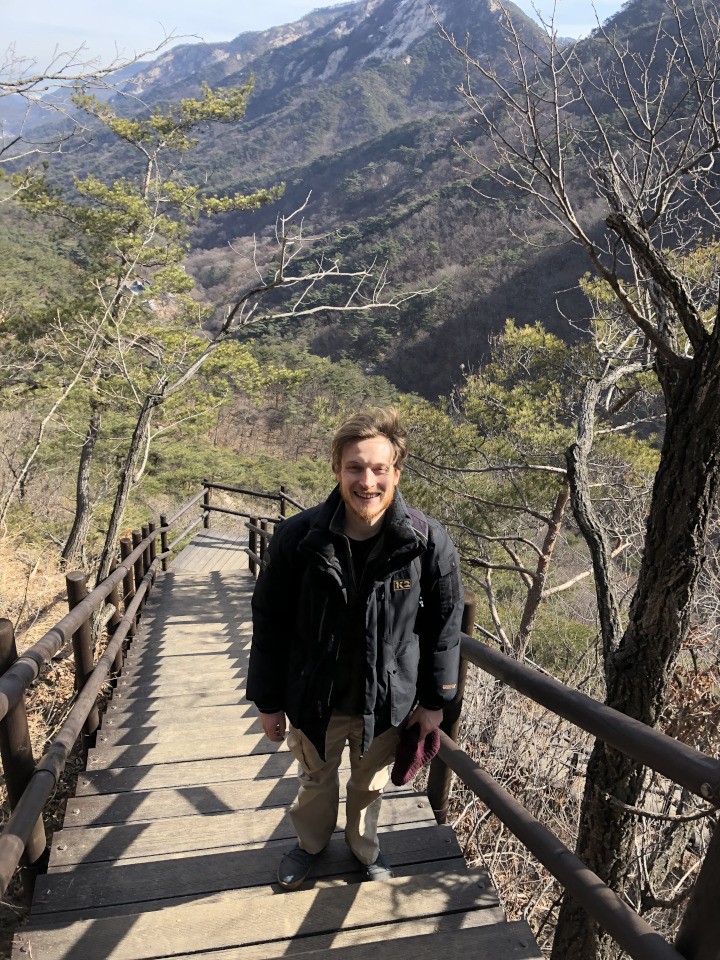 Gyeryongsan
Gyeryongsan is made of mostly stone or wooden steps. The endless steps start very beginning of the hiking and continue to the top. It can be quite hard to keep climbing up by steps but whenever you have a little break you can enjoy the breathtaking view of the national park.
It was quite a long hiking, took us 6 hours and 27 minutes. But it was very warm and sunny. So we often stopped at sunny places and have little snacks and enjoyed the beautiful nature. Whilst we are going down we saw the Nammae Top which means sibling tower. There were a little tower and a big tower together with a story of a monk and nun. It was quite an interesting story so don't forget to check once you are there!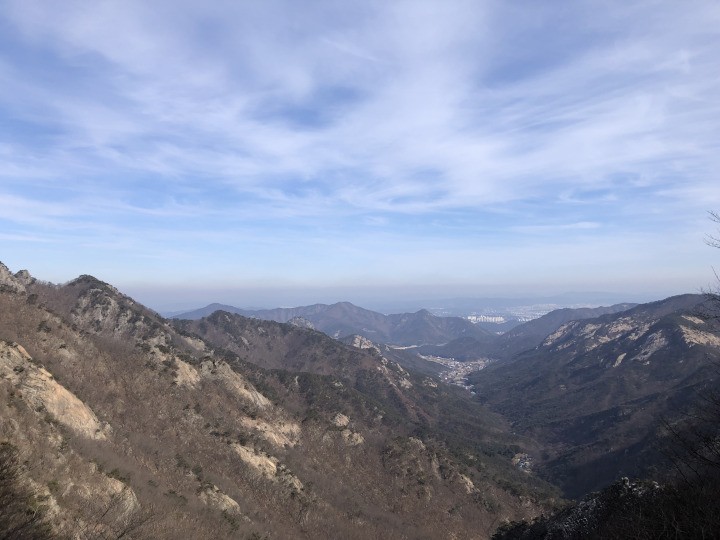 Things to do in Daejeon
1. Seongsimdang bakery(성심당)
If you do some research about Daejeon, you will soon find out many posts are talking about a bakery called Seongsimdang(성심당). I also heard about this bakery from an ex-colleague from Daejeon. And I could feel how much Daejeon people are proud of this bakery from him. Seongsimdang's most popular bread is fried bread stuffed with chives or sweet potatoes or red beans. So I visited this bakery and found there is a huge crowd queueing up for buying their bread. It doesn't take too long to get in. And I found that they have a vegan section of these amazing looking bread.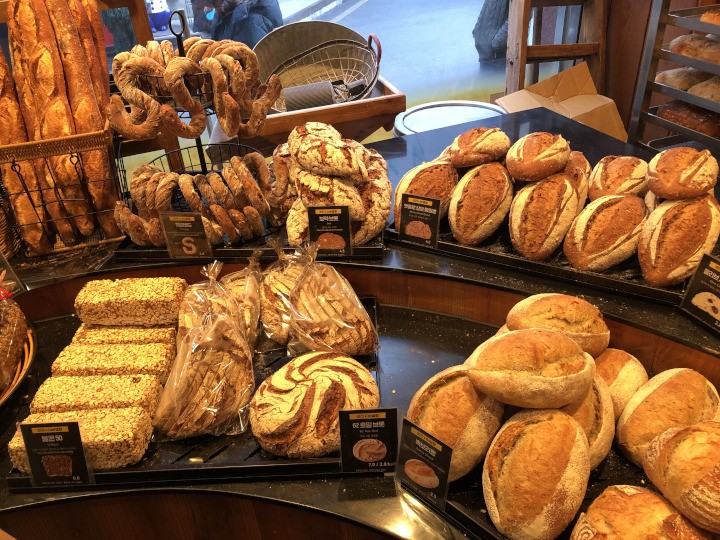 The fried bread was sweet and tasty. We ate it in the mountain and it was a great source for boosting our energy.
2. Daejeon Hanbat Arboretum (대전 한밭 수목원)
Last time we visited Daejeon for the first time we visited this lovely Hanbat Arboretum. If you want to escape from the busy city but you are not sure to hike then this arboretum can be the perfect option for you. This place is really well designed for a mindful and relaxing walk in nature. I strongly recommend you to visit if you have a plan to go to Daejeon!