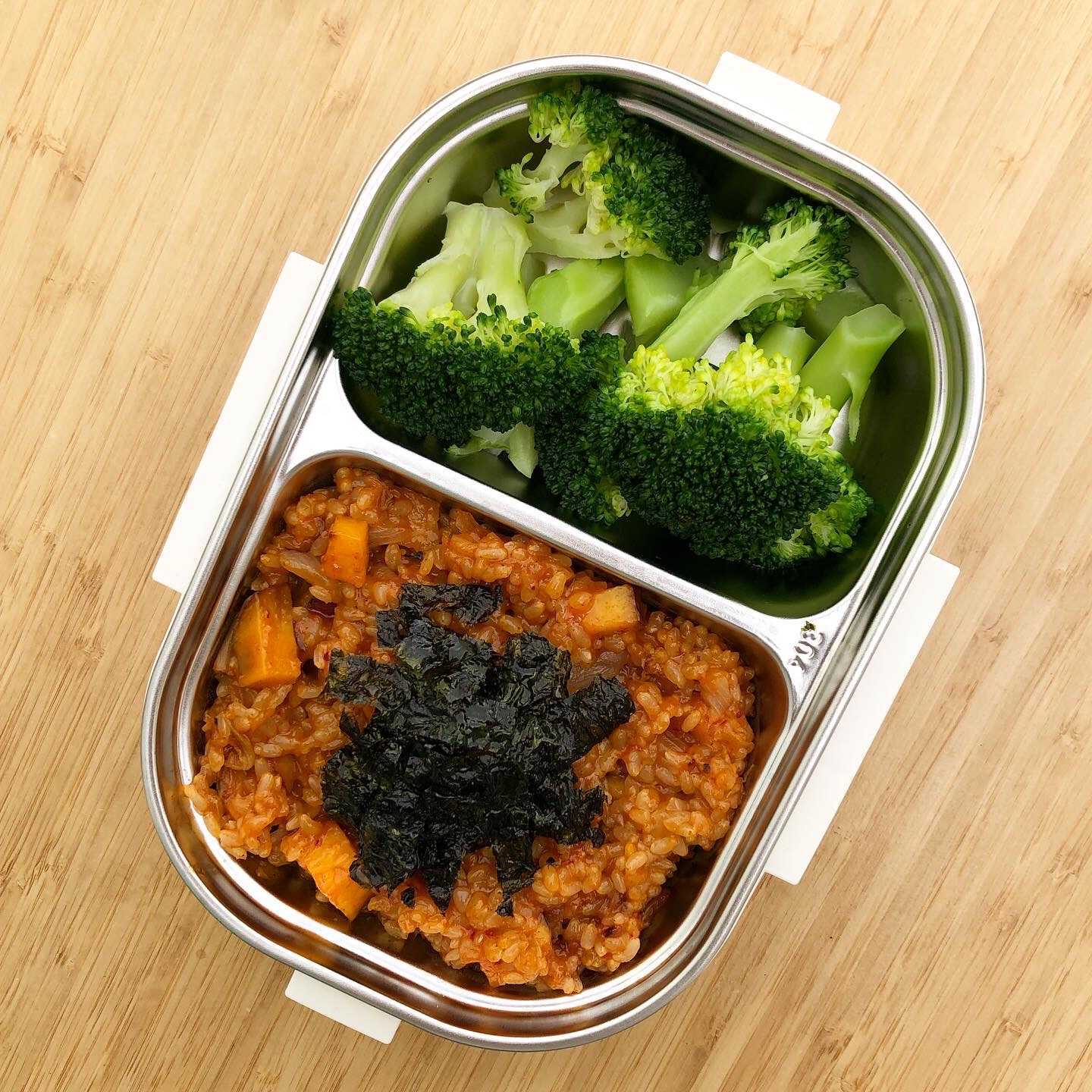 Dear my friends! 😊🙏 Today I'd like to introduce you one of the easiest and tastiest recipes to make with kimchi! 💛 As a veggie in Korea, I used to almost give up to consume kimchi unless I am in vegan restaurants since most of kimchi contains fish sauce in. But couple of days ago I stopped by a supermarket and found vegan kimchi! OMG 😳 I couldn't believe I could ever find vegan kimchi in just a normal supermarket 🥳
I am super happy to see that vegan products are now more accessible and popular in many industries in South Korea.

So today with the vegan kimchi I bought, I am going to make Kimchi fried rice (goguma kimchi bokkeumbap in Korean). But this time I added sweet potato for a bit of sweetness and more diverse flavours. It's super simple, you don't need to prepare bunch of ingredients but so so so satisfying. Let's get into it!

Ingredient 🌶
– ⅓ onion diced
– Half cup kimchi
– 2 bowl cooked rice (I used brown rice 🍚)
– 1 sweet potato small diced
– 1 tbsp sesame oil
– 2 tbsp soy sauce
– ½ tsp brown sugar
– ½ tbsp gochujang (Korean chili paste)
– Roasted seaweed for garnish (optional)

How to Cook 👩🏽‍🍳
Cook rice by following it's instruction.
Meanwhile, in an oiled pan add diced onion and stir until its colour changes to slightly translucent.
Add diced sweet potato into the pan and stir them with low heat
Cover the lid and stir them frequently to prevent from sticking to the pan.
Check the sweet potato with a fork or other pointy utensil if it's cooked
When it's ready add the kimchi, soy sauce, brown sugar, sesame oil and stir for 1-2 minutes
Add the cooked rice and gochujang and mix them well
Make the rice flat on the pan and turn the heat to high and leave for few minutes to make the bottom of fried rice to crispy
Place the rice to the plate and add a bit of roasted seaweed on top
Enjoy your sweet and spicy fried rice! 😋🙏
Recipe
Cook rice by following it's instruction.
Meanwhile, in an oiled pan add diced onion and stir until its colour changes to slightly translucent.
Add diced sweet potato into the pan and stir them with low heat
Cover the lid and stir them frequently to prevent from sticking to the pan.
Check the sweet potato with a fork or other pointy utensil if it's cooked
When it's ready add the kimchi, soy sauce, brown sugar, sesame oil and stir for 1-2 minutes
Add the cooked rice and gochujang and mix them well
Make the rice flat on the pan and turn the heat to high and leave for few minutes to make the bottom of fried rice to crispy
Place the rice to the plate and add a bit of roasted seaweed on top
Enjoy your sweet and spicy fried rice! 😋🙏