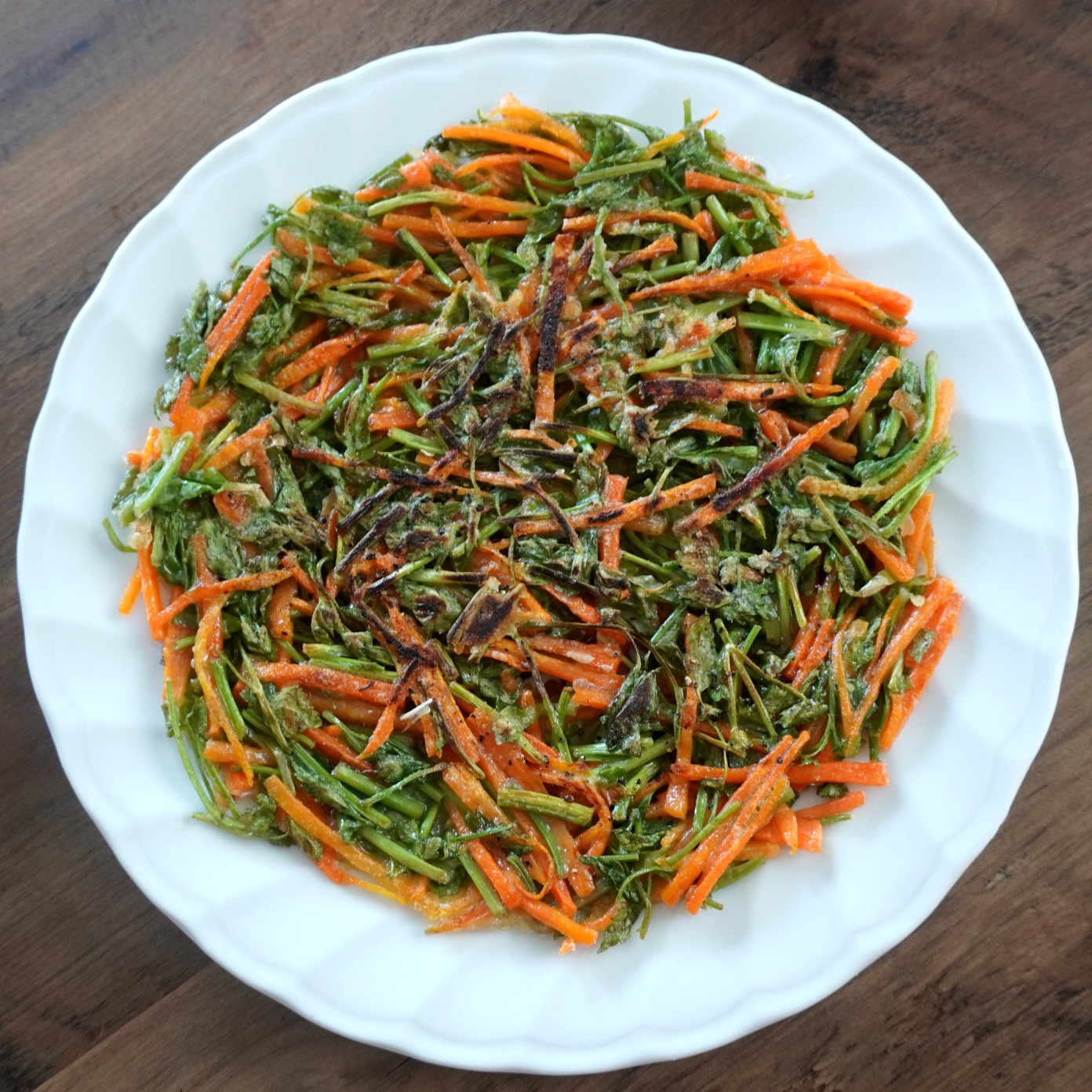 Minari 🌿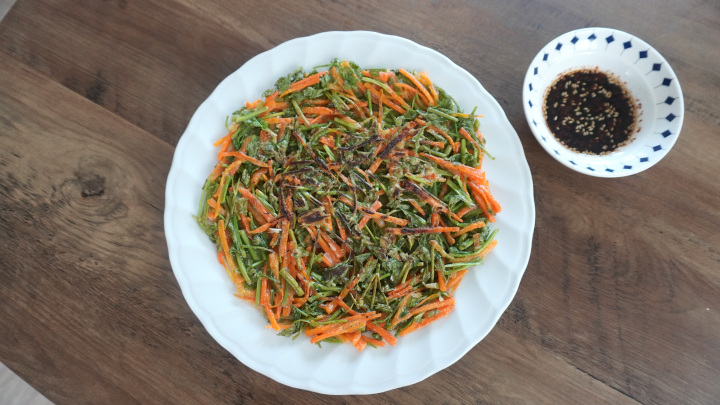 At the end of Spring, I stopped by a vegetable shop for weekly veggie shopping and found Minari.
Minari is the Korean name for water dropwort. It is widely consumed in South Korea during the spring season. Minari is a peppery, herbaceous and slightly bitter plant with large leaves and hollow, long stems. Its leaves and stems are edible and fragrant. The plant is usually bright green but some of them have purple-tipped stems.
Since it is used for many Korean cuisines the ways of cooking Minari are various. We cook it as namul, kimchi, Jeon(Pancake), e.t.c. Also since its strong herby fragrance, people often cook it mportant ingredient for removing smell from the dishes cooked with fish or meat.
Nutrition of Minari
Minari is well known for its nutrition. It is rich in Vitamin B1, B2 and C. Also Minari is high in minerals and fibres such as protein, iron and calcium and is well-known for detoxing our body and lowering our body heat.
Minari Jeon: Water Dropwort Pancake
After buying a bunch of Minari, I was thinking about how to cook them. And one of my joyful memories came up to my mind. It was when I hiked a local mountain in February. We were quite exhausted from the hiking at that time and near the top of the mountain, we found a cafe made out of old tents. Although the cafe looked very old, the cafe seemed loved by hikers. It was very busy. Around the cafe, there were huge and flat stones and tree trunks that were used for nature tables and chairs. People were eating Korean savoury pancakes with rice wine by sitting on the stones or tree trunks. We had a Minari pancake on the stone table with a bottle of rice wine. We both were very surprised by how delicious it is. Probably the environment, being in Nature and tiredness and huger, would have helped make this experience much more joyful. Anyway, I wanted to make Minari pancake like that by myself. The pancake that surprises others.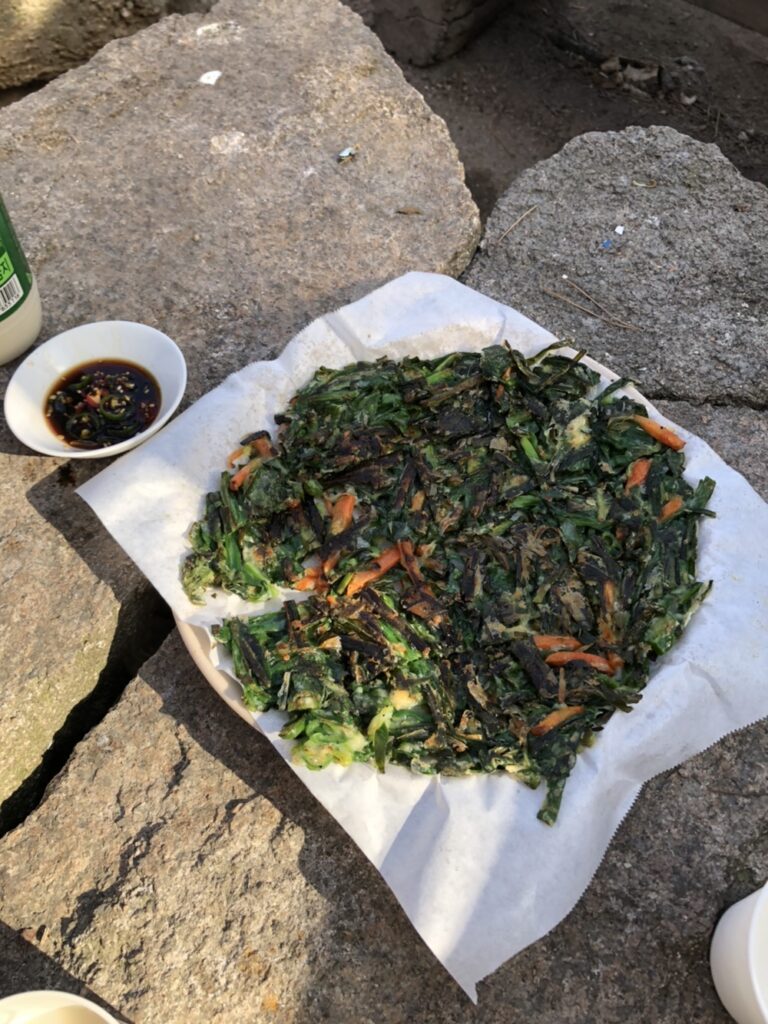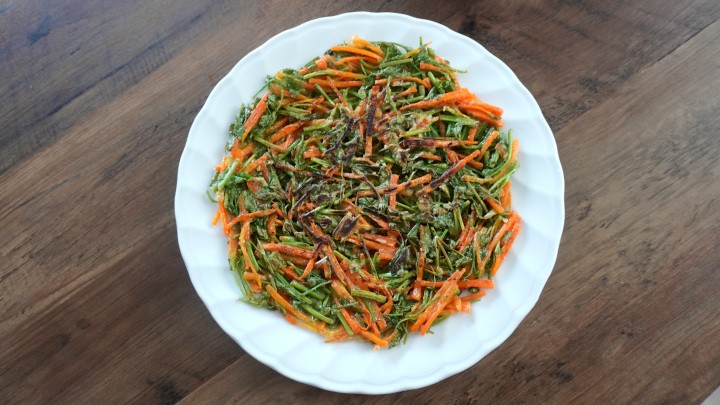 The American film about a Korean Family: Minari
In 2021, there was a film that surprised South Korean. The American drama film 'Minari' is about the first generation of Korean immigrants in Arkansas, U.S.A. in the 1980s. In the film, the grandma who visited America for her daughter's family, Soonja took David who is her grandson to plant Minari seeds by the creek. She told him that Minari grows well even in unfavourable environments. The film shows the struggles of the first generation of Korean immigrant families in America to settle down in a strange country witch uses a different language and has a different culture.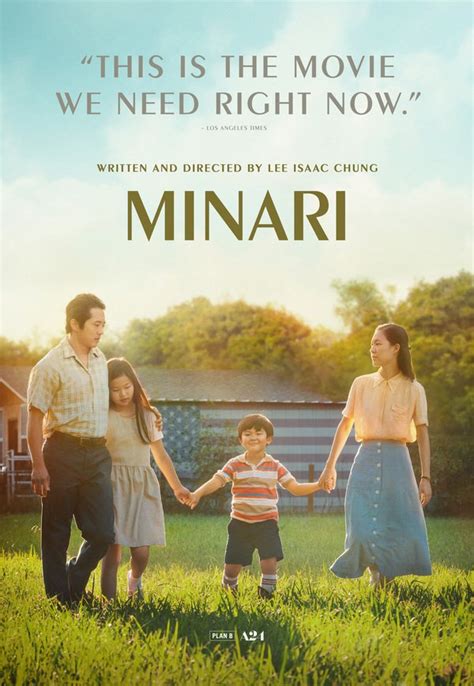 The grandson David is singing a Minari song while Soonja is planting the seed. So like the little boy, Justin and I were also singing the song together while making the Minari pancake until we empty the plate very quickly. If you want to know what is Minari fragrance like and why South Korean love it, now it is time for you to try my recipe!
Ingredients
50g Minari
80g Carrot thinly sliced
1 Chilly thinly sliced
50g Buchim Garu or flour
50g Potato starch
100g Coldwater
Salt and Pepper
Perilla oil or any vegetable oil
Ingredients for the sauce
1 tbsp Soy sauce
¼ tsp Korean chili powder
½ tsp Sesame oil
½ tsp Sesame Seed
How to cook
Rinse Minari, carrot and the chilly
Cut the Minari 2cm length
Slice thinly the carrots and chilly
In the mixing bowl add the Buchimgaru or flour, the potato starch and the cold water and mix them well.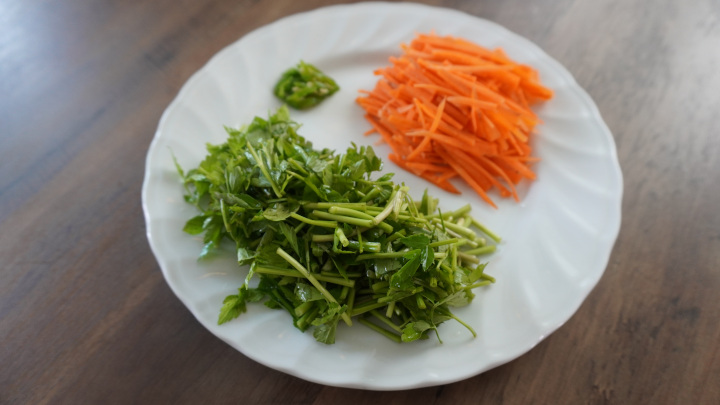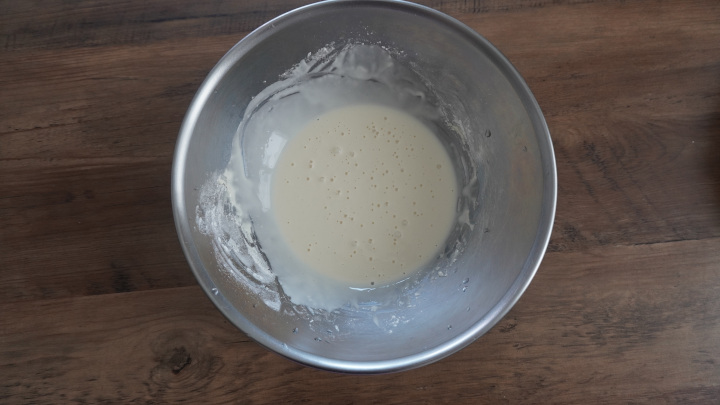 Add the sliced veggies into the bowl and mix them well until every vegetable is well coated.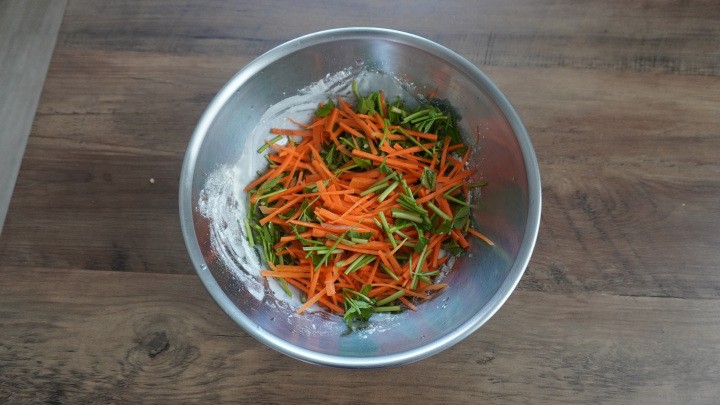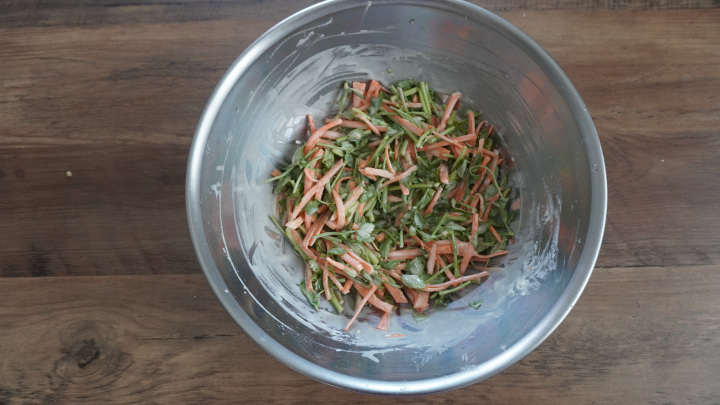 Add 1 tbsp of Perilla oil or any vegetable oil to the pan and heat the pan to low-medium heat
Place the mixture into the pan and press gently with the tablespoon and add a little bit of oil on the edge of the mixture for extra crispiness.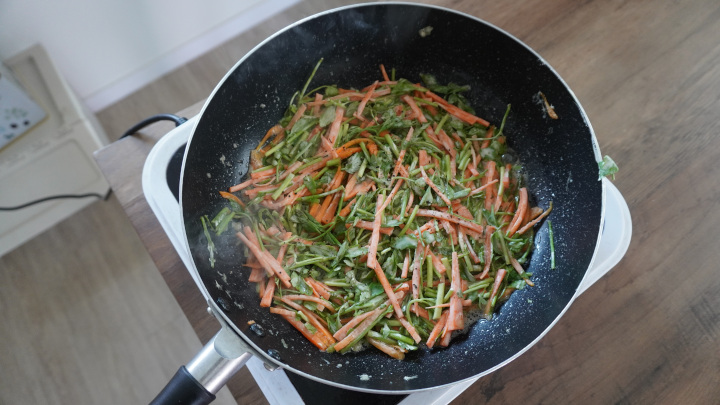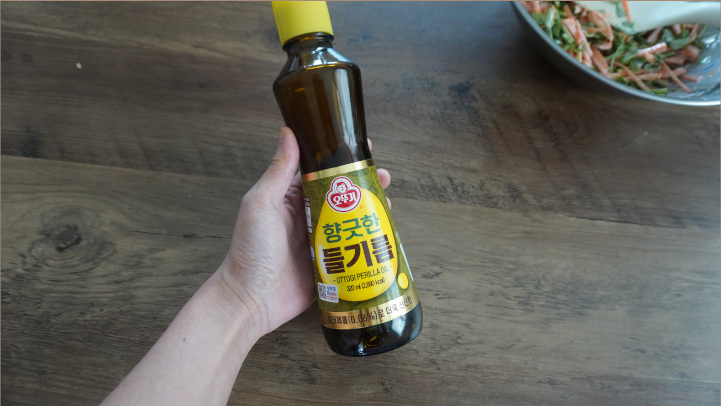 Once the edge of the pancake started to change to golden, and then flip the pancake.
Meanwhile, add all ingredients for the sauce into the small bowl.
Once both sides become golden and crispy your Minari Jeon is ready! Enjoy your Minari Jeon 🌿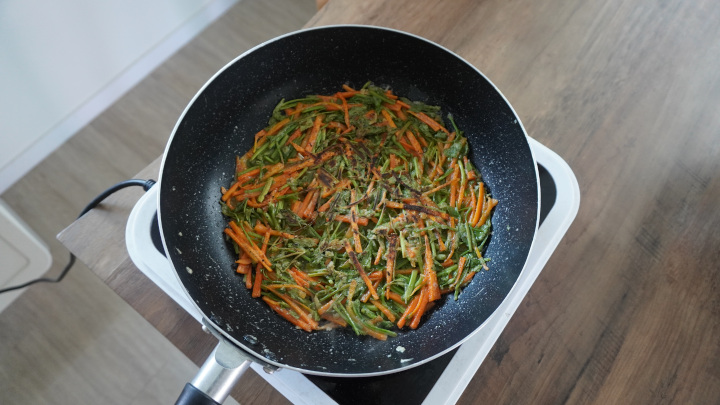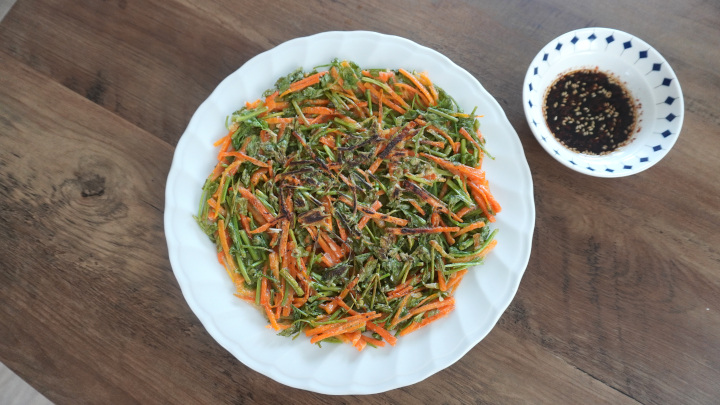 Ingredients For the Sauce
Recipe
Rinse Minari, carrot and the chilly
Cut the Minari 2cm length
Slice thinly the carrots and chilly
In the mixing bowl add the Buchimgaru or flour, the potato starch and the cold water and mix them well.
Add the sliced veggies into the bowl and mix them well until every vegetable is well coated.
Add 1 tbsp of Perilla oil or any vegetable oil to the pan and heat the pan to low-medium heat
Place the mixture into the pan and press gently with the tablespoon and add a little bit of oil on the edge of the mixture for extra crispiness.
Once the edge of the pancake started to change to golden, and then flip the pancake.
Meanwhile, add all ingredients for the sauce into the small bowl.
Once both sides become golden and crispy your Minari Jeon is ready! Enjoy your Minari Jeon 🌿