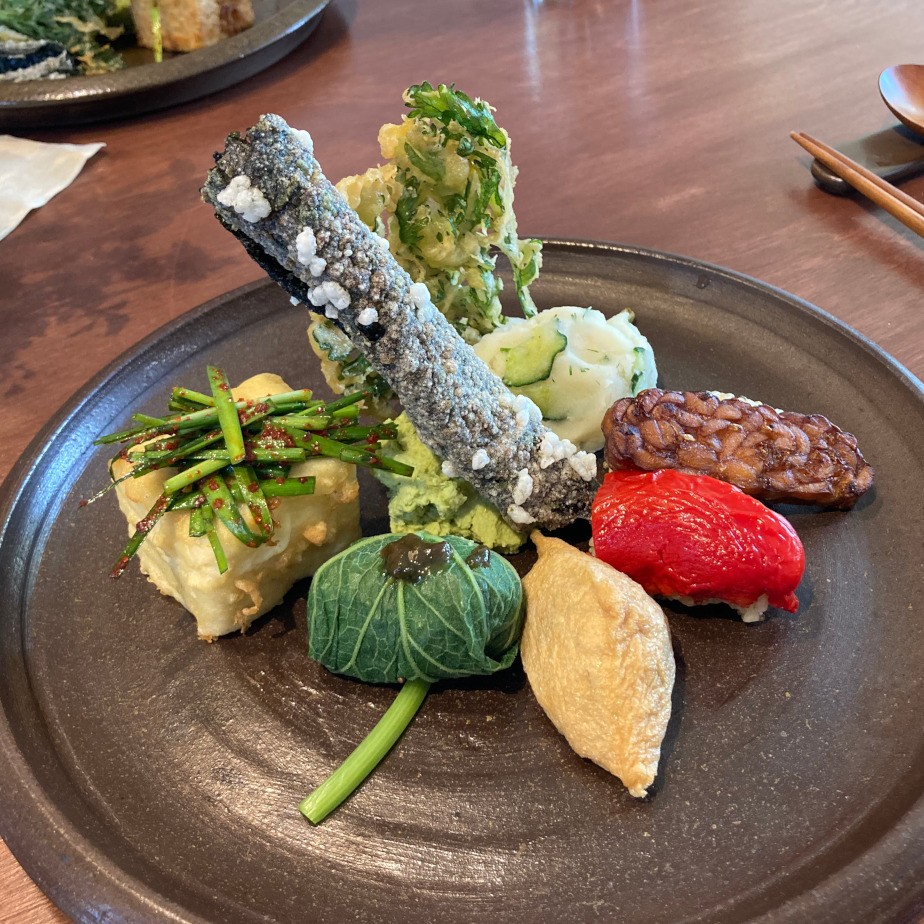 Santosha was one of the most special wedding gifts that have been given to us. The vegan course dinner they served for our wedding made our special day even more special 🙏✨

The Little Veggie Korean
Vegan Wedding on Jeju Island 🏝
8th May in 2022 – Buddha's birthday and Parents' day – Justin and I had a wedding ceremony on Jeju island ◡̈
.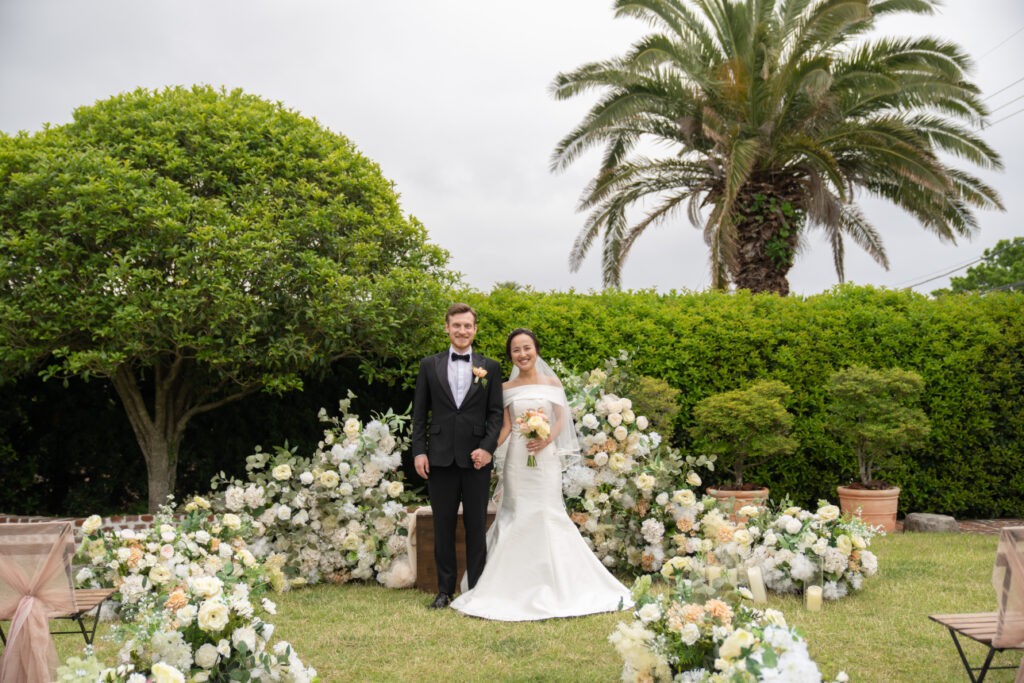 When we were planning our wedding, one thing we prioritised was a 'Vegan wedding'. We didn't want any living being to suffer for our special day.
Since we were having a small wedding ceremony, we needed to find a place to have a ceremony and catering service e.t.c on our own. Although we found a lovely pension in Seogwipo for staying with our family and having a ceremony, it was very challenging to find a vegan catering service. I have contacted a few wedding catering companies in Jeju and asked vegan option. But all of them said they couldn't cook vegan. So we couldn't decide where to eat until two weeks before the wedding. We thought about delivering vegan foods or a Thai restaurant which has few vegan options. But for some reason, I was not quite happy with them. And finally, we found this lovely restaurant, Santosha. ✨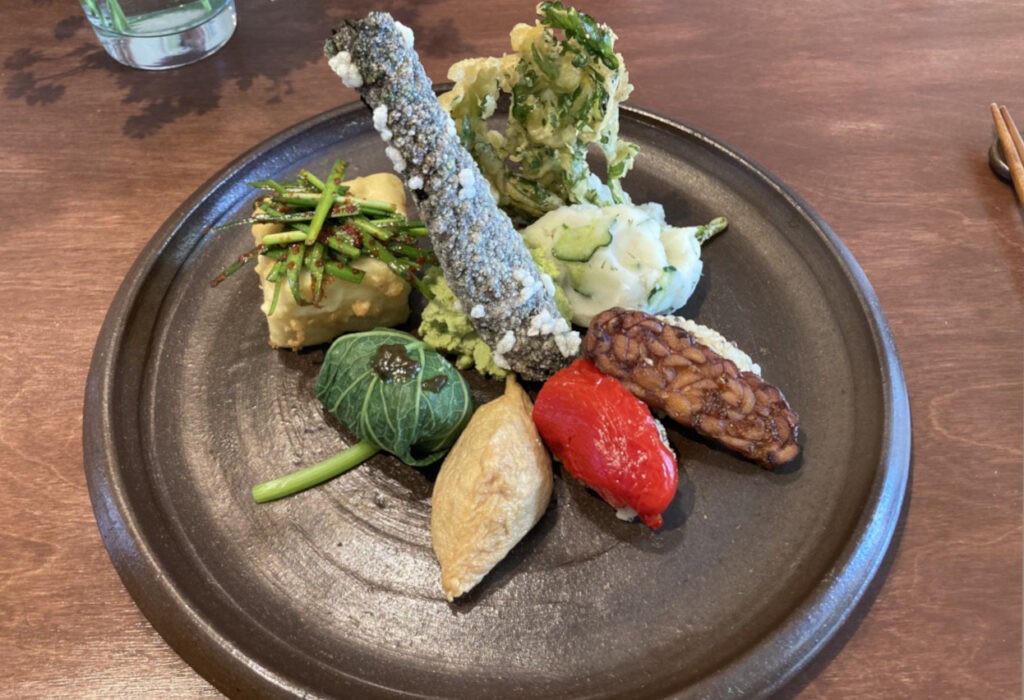 Santosha Jeju – 산토샤 제주
Santosha (skt. संतोष saṃtoṣa) literally means "contentment, satisfaction". It is also an ethical concept in Indian philosophy, particularly Yoga , where it is included as one of the Niyamas.

Wikipedia
Santosha is a vegan restaurant located on the west side of Seogwipo City on Jeju Island. I found this vegan restaurant on Instagram. I felt straight away that this restaurant is the one I have been looking for.
Like its name, Santosha is a zero-waste / vegan restaurant opening and welcoming everyone including pets and kids. Santosha only serves a seasonal meal for the day which is cooked with organic and local ingredients. (You can check what they'll be serving the day on their Instagram @santosha_jeju). They also regularly host vegan cooking classes, book or film clubs or one-day yoga classes e.t.c. If I was living in Jeju I would probably come here not just for food, but for the interesting events.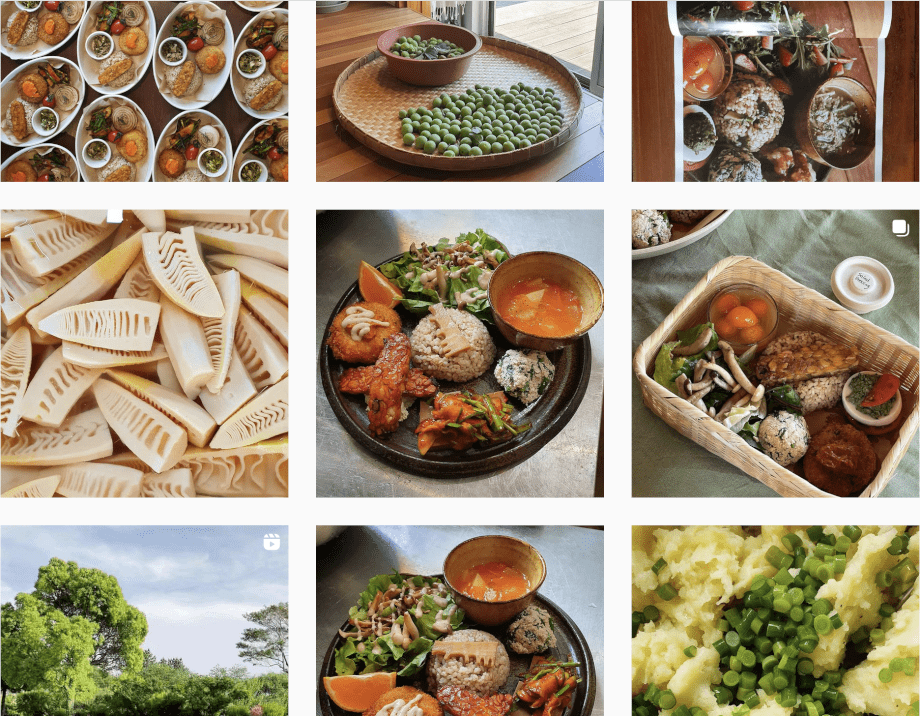 But there was a concern. I found that they are open for a limited time. From Thursday to Saturday, 11:30 to 15:00. So I wasn't sure if we can ask them for our wedding dinner. Our wedding was on Sunday. And the restaurant was about 40 minutes away by car from where we were going to get married. But I already loved this restaurant and couldn't think of any other better option. So I decided to give it a go. I DM Santosha and explained our situation. And ask if they can serve our wedding dinner on Sunday.
Thankfully and very kindly she replied that she would love to serve a lovely course meal for our special day. When I checked the message from her, Justin and I hugged each other and could not help to be so happy! ◡̈
Vegan Course Dinner
She asked for some details such as our guests' ages or nationality so that she can make a plan for the course menu. And she also checked if there is any food that we avoid eating. So I told her that some of my family members can't eat coriander and a friend has an allergy to shiitake mushroom.
We had guests from England and America. I also had family members who are not familiar with vegan / veggie restaurants. So we wanted to give them new and lovely experiences from our dinner. I told her about our thought and discussed drinks and music. A few days later she sent us a message about the menu she will cook for us.
Our dinner course was –
Appetiser: Soft tofu Caprese with fermented lemon and oak pesto mixed with black barley.
Salad: Sesame dressing salad with mushroom pickles and radish.
Buckwheat noodles (In Korean, we traditionally eat noodles on the wedding day wishing the couple has a long life and long-lasting relationship like the long noodles! )
Main: Vegan sushi and vegetable fries. and salad and humus.
Dessert: Vegan strawberry ice cream.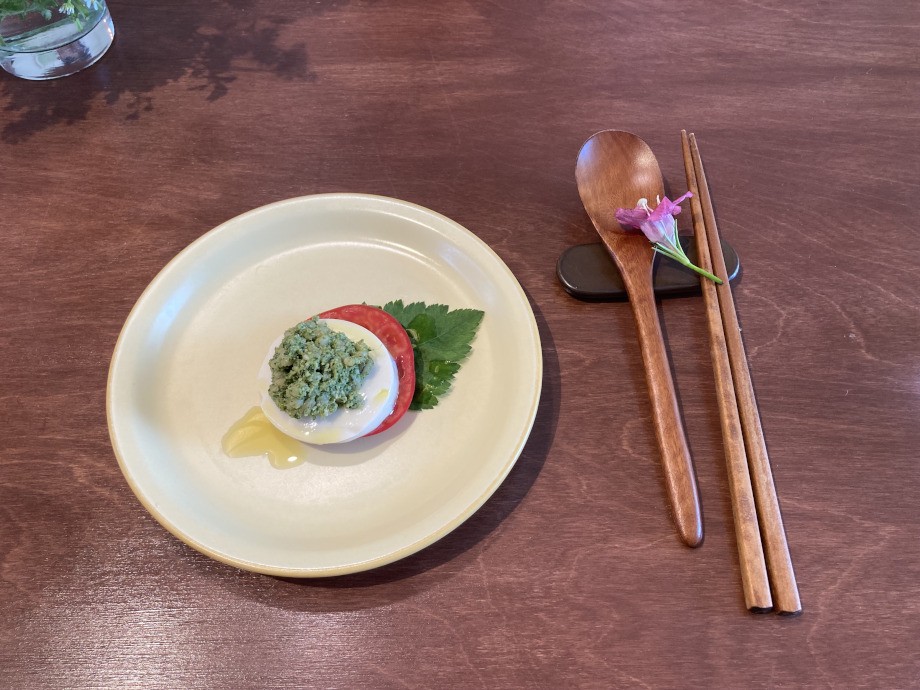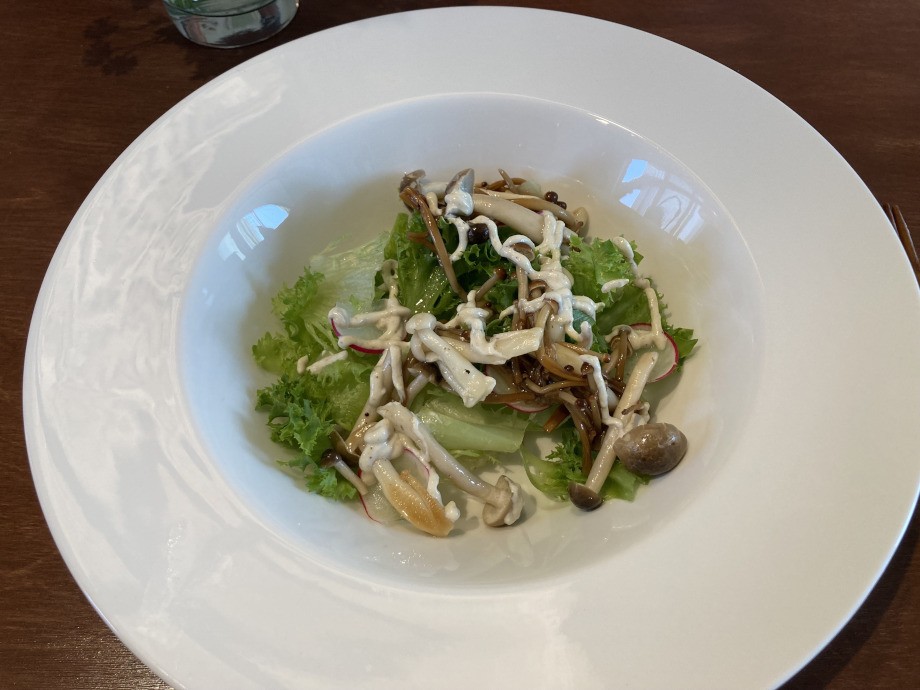 Justin and I were very happy with the menu she suggested! ◡̈
Peaceful Wedding Dinner in Santosha Jeju
Finally on our wedding day, after the lovely ceremony, we all drove to Santosha with excitement.
They welcomed us with calming music and the delicious smell of food. And with nicely prepared tables with flowers from their garden. Even if I only talked to the owner through SNS and have never actually been to the restaurant I felt already very familiar and comfortable being there.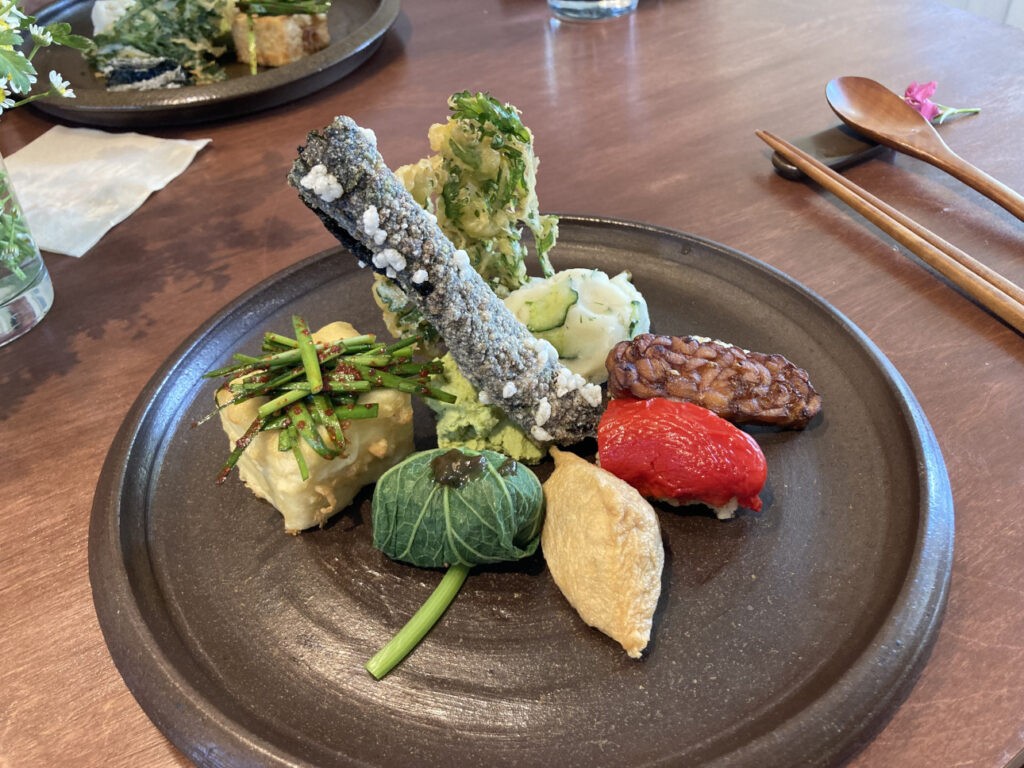 Santosha is a small and cosy restaurant with few tables including floor tables and a lovely garden. The restaurant was only for us during the day so we could slowly and mindfully enjoy our dinner and talk with our guests freely.
When we arrived they started to serve our dinner. When each course was served, they came to us and explained how they prepare with which ingredients very thoroughly. The food was really nicely presented and very delicious.
Some of my family member who had never been to a vegan restaurant was joyfully surprised to try a variety of vegan foods that they have never tried before. We were very pleased and grateful for Santosha so we could introduce a lovely vegan meal for our guests.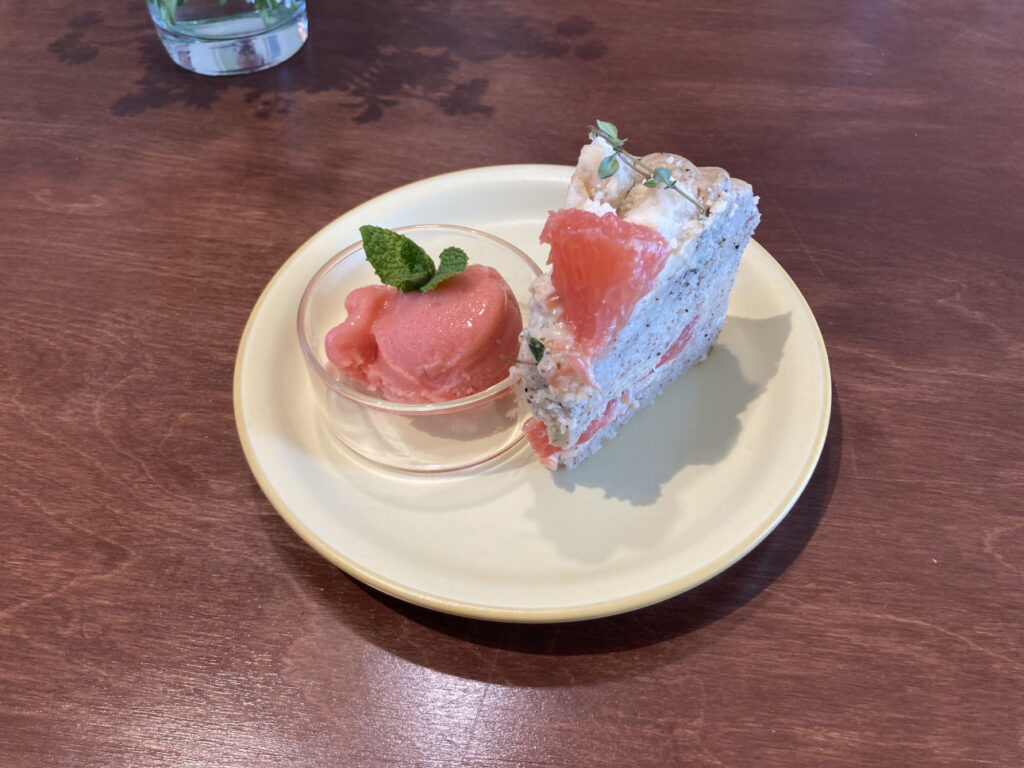 Conclusion
I still feel like it was a lovely gift to find this lovely vegan restaurant. If you want to have a special, calming and satisfying vegan lunch in Jeju I truly recommend visiting Santosha. They will warmly welcome you with the food that they cook with love.
Before you visit Santosha I highly recommend booking your table through their Instagram since it is located in the middle of nowhere and there wouldn't be many vegan restaurants around 🌿