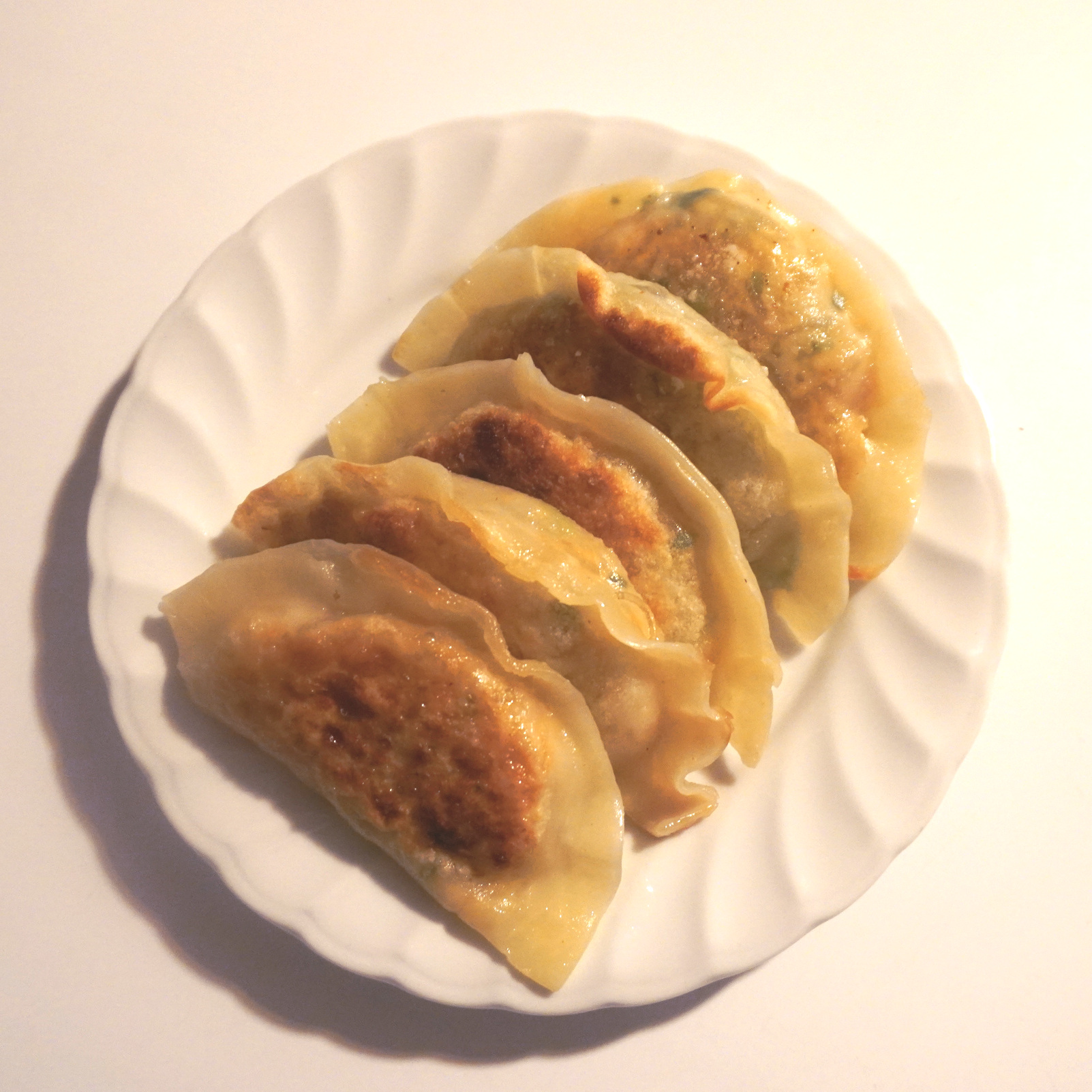 My Childhood Memory with Dumpling
One of the oldest memory I have in my childhood is making dumplings with my mum and relatives all together in a Korean New Year. I was inspired to make animal-shaped dumplings such as a rabbit 🐰. The reason why this memory was so special to me was that dumpling was one of the rare foods that children were allowed to cook together with adults, and whenever I showed off how pretty my dumpling was, all of the adults burst into laughter and praised me.
Back then we made dumplings from very scratch. The "scratch" means the flour dough. We made the flour dough with salty water and flatten it very thinly. Then with a rice bowl turned upside down, and we pressed it on the flattened dough to make round-shaped dumpling wrapper. These days you can easily buy the dumpling wrapper from the shops.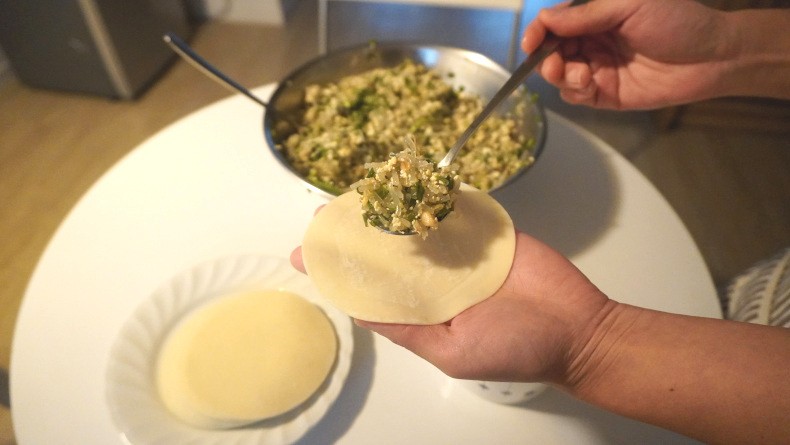 And there, a big pile of dumpling filling cooked by women in the family was ready to be used in the middle of the dumpling makers. One of the best bits of making dumplings was, while you were making the dumplings, someone kept steaming or frying the dumpling and we could try and enjoy the delicious fresh made dumplings while we were making them.
What is Dumpling(만두; Mandu)?
Dumpling is called Mandu(만두) in Korean. Mandu is a food made of flour or buckwheat flour dough, filled with stuffed tofu, kimchi, glass noodles, meat etc. Dumpling is found in many worldwide cuisines. For example in some countries of East Aisa dumpling exists as different name and slightly different recipes like "Mandu(만두)" in South Korea, "Jiaozi(餃子)" in China, "Gyoza(ギョーザ)" in Japan.
In South Korea, Mandu used to be a festive food. Especially for New Year, family and relatives used to make dumplings together and cook the rice cake soup with the dumplings. Some regions have dumpling soup for the New Year instead of rice cake soup. But these days, you can easily find pre-made frozen dumplings in almost every shop in South Korea.
Welcome to a Dumpling factory! 🧔‍♂️🥟
Since I married Justin, he found out that he got a new job at a dumpling factory. My parents don't speak English well and Justin is also a beginner at Korean. So whenever we visit my parent's house they speak to each other with my translation. And sometimes it is quite challenging for me. So we often do some activities we can do together without too much talking such as playing a board game, going for a walk, watching films, cooking and…… making dumplings! So we have made dumplings a couple of times already. And once we make dumplings we usually make a pile of them. After 2 years of living in South Korea, Justin has become such an expert at making dumplings. 🙂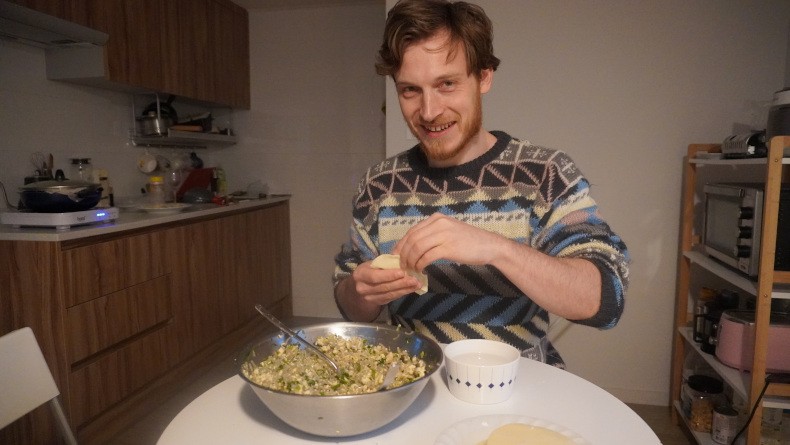 Vegan Dumpling (비건 만두)
Although it is very easy to find dumpling shops in South Korea, vegan dumplings are rarely available, only in vegan restaurants or some online shops. So I decided to challenge myself to make vegan dumplings on my own. Why not? 🙂
I made half of the veggie dumplings and the kimchi dumplings. I recommend you to try the kimchi dumplings if you have some vegan kimchi. Justin says, he prefers the kimchi dumplings more because the veggie dumpling is so tasty and vegan kimchi is so tasty. So if they are together it is even better! 🥟 (I really agree 🥳)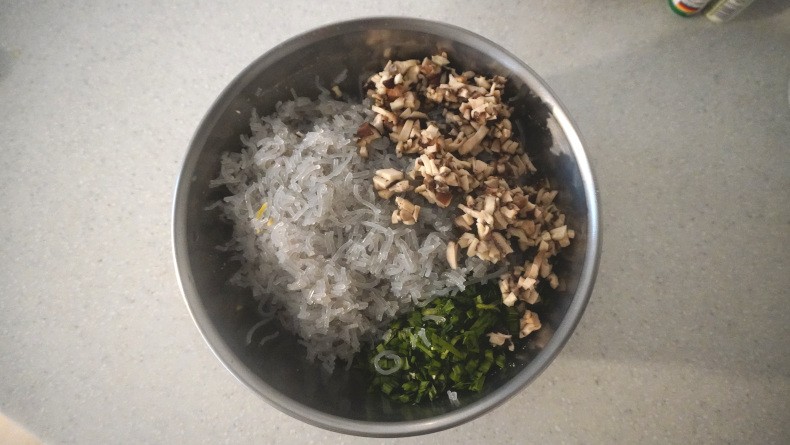 How to cook dumpling?
Dumplings can be cooked in a variety of ways. My favourite way is frying. In an oiled pan, add some dumplings and fry until each side change its colour to golden. And before turning off the heat, add half a cup of water carefully and close the lid and fry it until the water is gone. Then the outside of the dumpling will be very crispy and the inside will be very soft.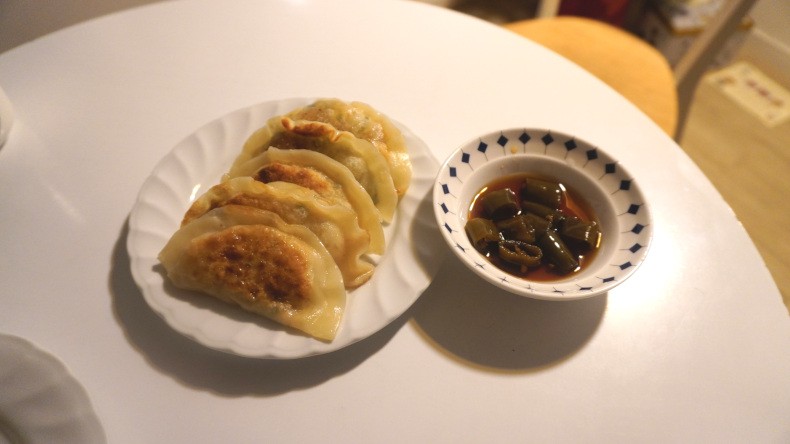 You can also steam the dumplings for about 20 minutes, cooking as a dumpling soup, or whatever you fancy.
My plan was to make quite a decent amount of dumplings for two people. But we ended up making about 60 dumplings. So I freeze two-third of them in the freezer for the future. And kept the rest for eating quite soon. If you want to make a decent amount you can adjust the number and amount of ingredients as half of what I have done. But if you make a dumpling with your family or friends it would not be too much and, in fact, you might find it is not enough! 🥟🧡
Okay, shall we start?
Ingredients
60 Dumpling Wrapper
5 Shiitake mushroom
200g Sweet potato glass noodle
100g Fresh chives
200g Mungbean Sprout
320g Tofu
150g vegan Kimch (Optional)
3 tbsp Soy sauce
½ tsp Salt
Black pepper
2 tbsp Sesame Oil
How to cook
Boil the sweet potato glass noodle in boiling water for 6 minutes. And rinse in the cold water and drain the water and set aside.
Boil the shiitake mushroom and the Mungbean Sprout separately in boiling water for 4 minutes each. Squeeze the water and set it aside.
Wrap the tofu in cotton cloth, drain and mash it and place it into a large mixing bowl.
Rinse the fresh chives and drain. Mince the chives by chopping them into the smallest possible pieces.
In the same way, chop the shiitake mushroom, Mungbean Sprout, glass noodle into the very small pieces. (If you have a food processor or blender you can use it but be careful to blend them until the pieces still remain.)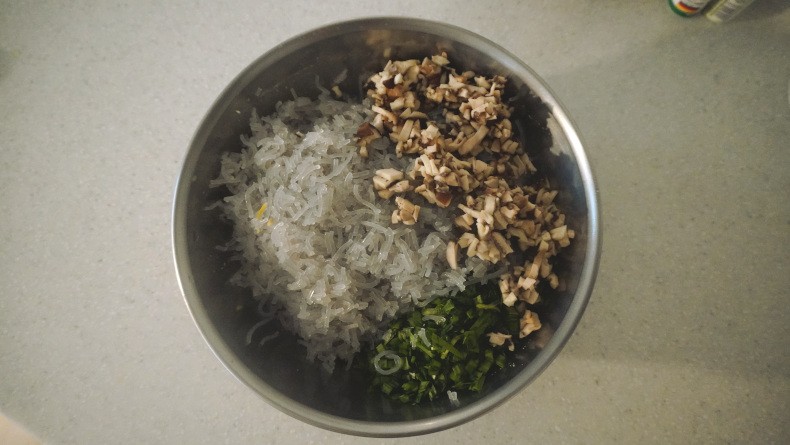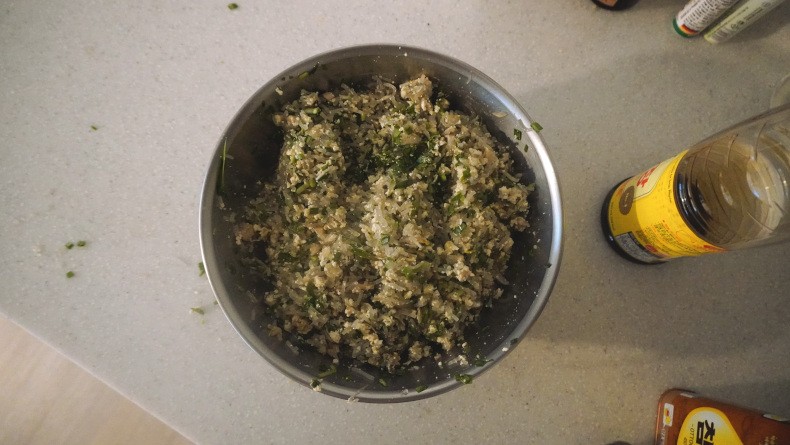 Place all of the chopped ingredients into the large mixing bowl which has mashed tofu and add the soy sauce, salt, sesame oil and black pepper and mix them well.
Now the real fun part of making dumplings start. Set the filling in the middle of the table. And place the dumpling wrappers and a bowl of water on the table.
Place a dumpling wrapper in your palm.
Dip a finger of your free hand into the water and wet the edge of the dumpling wrapper in your hand.
Add a spoonful of the dumpling filling on the centre of the wrapper.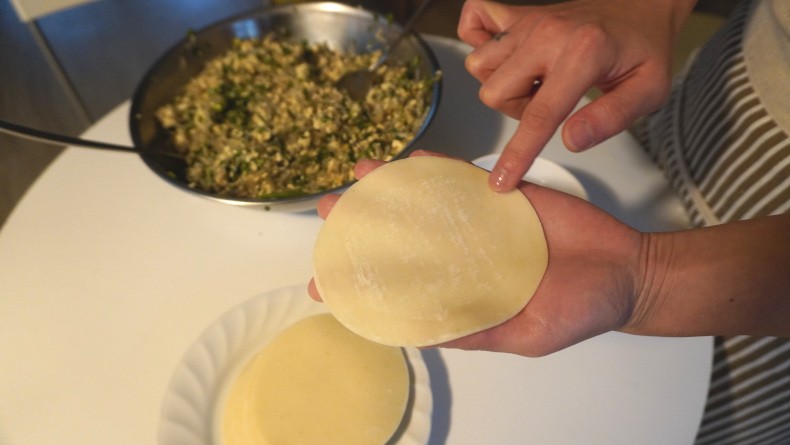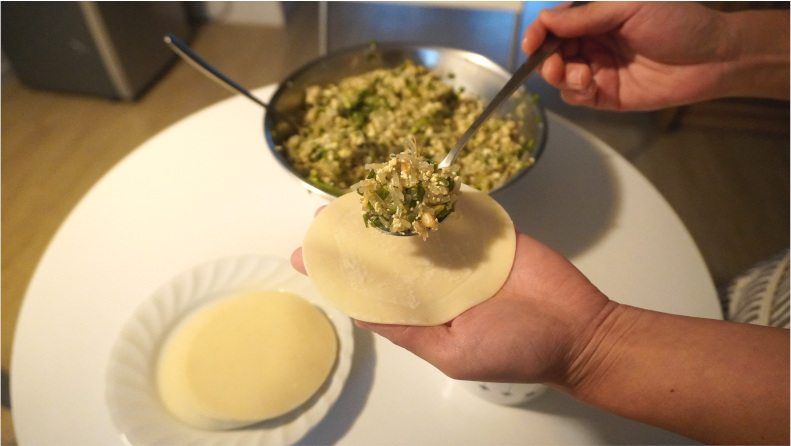 Fold the wrapper into a half-moon shape and pinch the edge to seal.
You can make any kind of shape you like such as a full-moon shape or a rabbit 🐰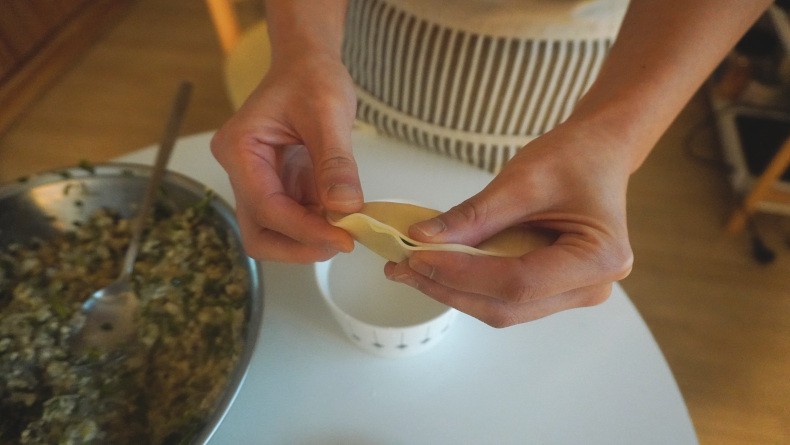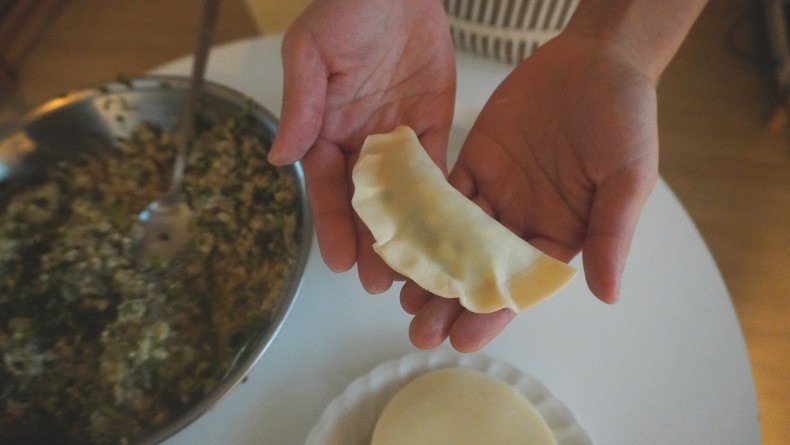 For the kimchi dumpling, when half of the filling remains, chop the vegan kimchi into small pieces and mix them into the filling.
Now continue to make dumpling. 🥟
Recipe
Boil the sweet potato glass noodle in boiling water for 6 minutes. And rinse in the cold water and drain the water and set aside.
Boil the shiitake mushroom and the Mungbean Sprout separately in boiling water for 4 minutes each. Squeeze the water and set it aside.
Wrap the tofu in cotton cloth, drain and mash it and place it into a large mixing bowl.
Rinse the fresh chives and drain. Mince the chives by chopping them into the smallest possible pieces.
In the same way, chop the shiitake mushroom, Mungbean Sprout, glass noodle into the very small pieces. (If you have a food processor or blender you can use it but be careful to blend them until the pieces still remain.)
Place all of the chopped ingredients into the large mixing bowl which has mashed tofu and add the soy sauce, salt, sesame oil and black pepper and mix them well.
Now the real fun part of making dumplings start. Set the filling in the middle of the table. And place the dumpling wrappers and a bowl of water on the table.
Place a dumpling wrapper in your palm.
Dip a finger of your free hand into the water and wet the edge of the dumpling wrapper in your hand.
Add a spoonful of the dumpling filling on the centre of the wrapper
Fold the wrapper into a half-moon shape and pinch the edge to seal.
You can make any kind of shape you like such as a full-moon shape or a rabbit 🐰
For the kimchi dumpling, when half of the filling remains, chop the vegan kimchi into small pieces and mix them into the filling.
Now continue to make dumpling. 🥟