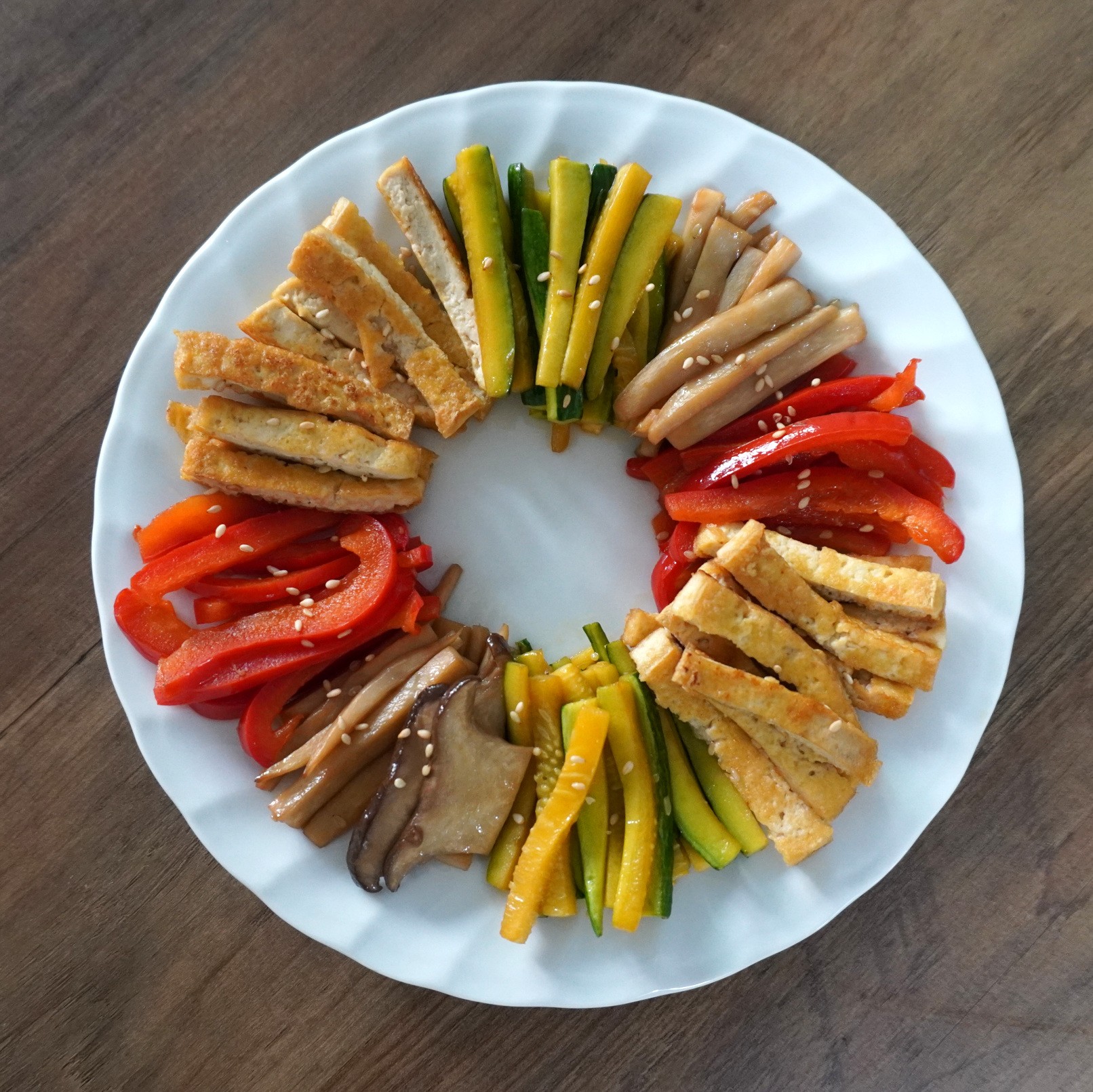 Japchae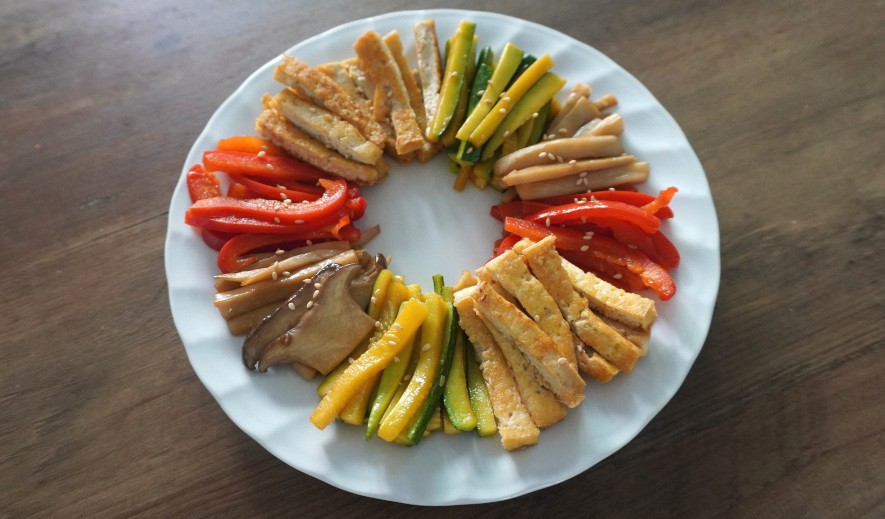 If someone asks me what my favourite Korean food I would say, 'Japchae', the glass noodle stir fry. It is one of the most popular festive dishes Korean eat for special holidays or family gatherings. Like I said in my previous post about this noodle, it has always made me so excited although I know exactly what it tastes like.
But there are some downsides to this dish. For making Japchae, we often use quite a considerable amount of oils. So Japchae is quite hard to digest. If you eat Japchae too much, it can cause indigestion or bloating
Also, the glass noodle itself is very high in calories. So often after national holidays like the Korean New Year(Seollar) or Korean Thanksgiving (Chuseok), people complain about gaining weight and Japchae is the food that gets blamed the most.
So, how can we enjoy Japchae in a healthier way? I have a good suggestion for you.
Tofu Japchae: Tofu and Vegetable Stir-fry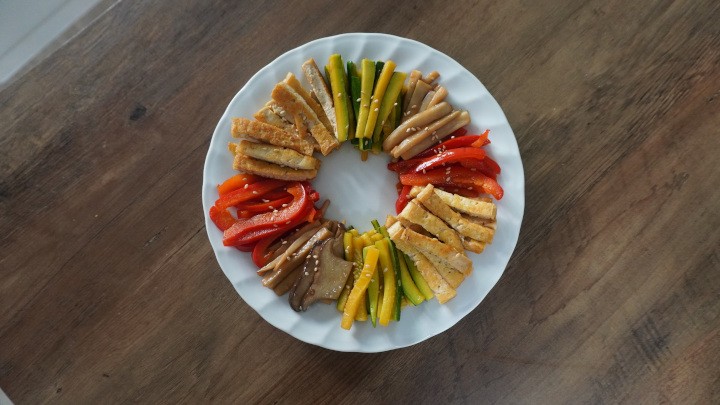 The first time I learned this recipe, was in my temple food cooking class. My cooking instructor and the experienced nun, Seonggyeon Sunim, explained that swapping the glass noodle for tofu can reduce the calories and can give us some extra health benefits.
4 of the students including me had cooked together in the classroom. We chopped together, fried and plated together joyfully. It was a very simple dish. And the result was remarkably beautiful. Since then I have always wanted to try this dish on my own. And I finally got the chance!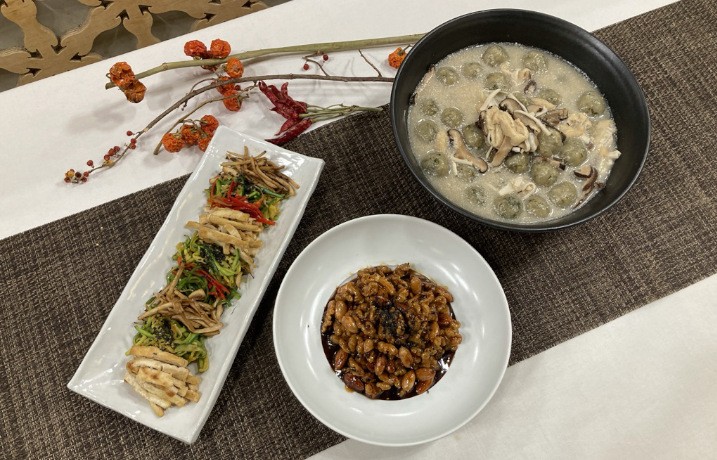 I have basically followed the recipes that Seonggyeon Sunim taught us in the class but made some tweaks depending on what was available for me. And for those of you who make this tofu japchae, if you don't have certain veggies in your fridge, do not worry about it. You can simply change the vegetables to whatever is available for you.
Ohshinchae: Five Forbidden Pungent Herbs.
Before I introduce you to the recipe, I would like to talk about a rule on temple food. In Korea, we often say temple food is Mu-Ohsinchae(무오신채). Mu-Ohsinchae means 'It does not have Ohsinchae'. Now, what is the Ohsinchae?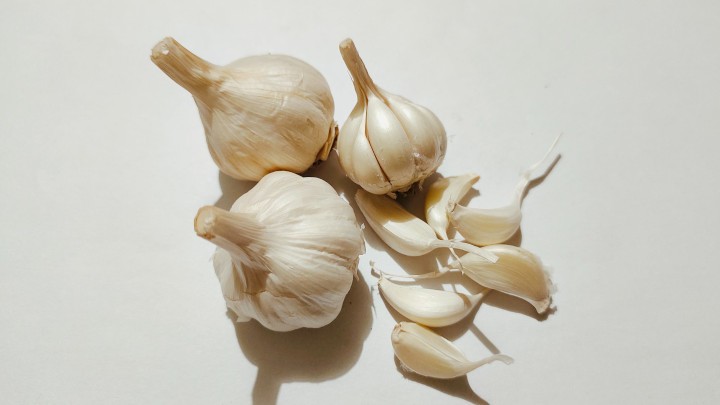 Ohsinchae(오신채 in Korean) means the five pungent herbs that are prohibited in Buddhism. The five herbs are 'garlic(마늘)', 'spring onion or leek'(파), 'chive(부추)', 'dalae – Korean wild chive(달래)', and 'Asafoetida(흥거)'. In Korea, Onion(양파) is also included for the same reason.
Buddhists are advised to avoid these herbs, as they tend to disturb the peacefulness of the mind. These five herbs are known for very strong spiciness. In Buddhism, it says that if eaten raw, these herbs will incite people to anger and disputes. And if cooked and eaten, these herbs increase one's sexual desire.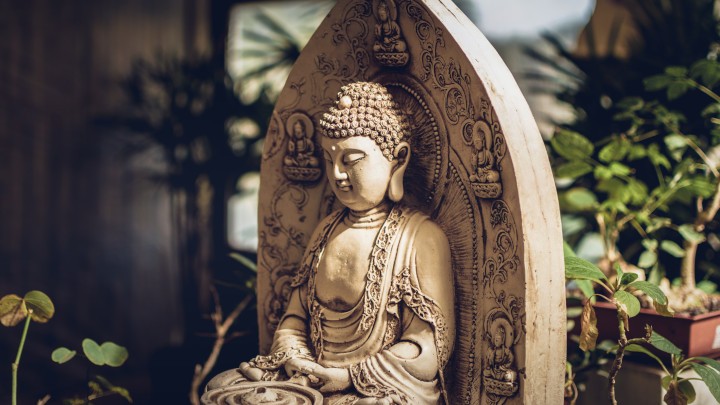 Since the temple food doesn't use these five herbs, you may feel it is a bit plain. But the food without the five herbs actually brings you the opportunity to taste the pure and natural taste of the ingredients which were covered by the strong spiciness and strong fragrance. It cleanses our body and mind. I always find that after eating temple foods, my mind and body are very relaxed and calm as if I just finished a joyful meditation session.
So like I said tofu japchae doesn't have very strong flavours. But you can enjoy the individual ingredients that you have cooked and it will comfort your body and mind.
Let's try it🙏✨
Ingredients
250g tofu
100g courgette
1 oyster mushroom
½ bell pepper
salt
1tbsp Perilla oil
Ingredients for the sauce
1tbsp Soy sauce
1tsp Sesame seed
½tbsp Sugar
1tsp Sesame oil
3tbsp Water
How to cook
Slice the tofu in a square shape and 0.5cm thick.
Slice the courgette as thin as possible. Place kitchen towels on the two plates and put the sliced tofu and courgette separately. Sprinkle a pinch of salt on both and keep for 10 minutes to remove the water.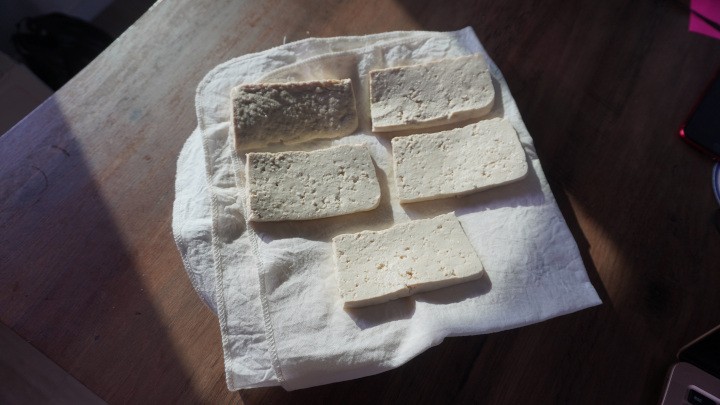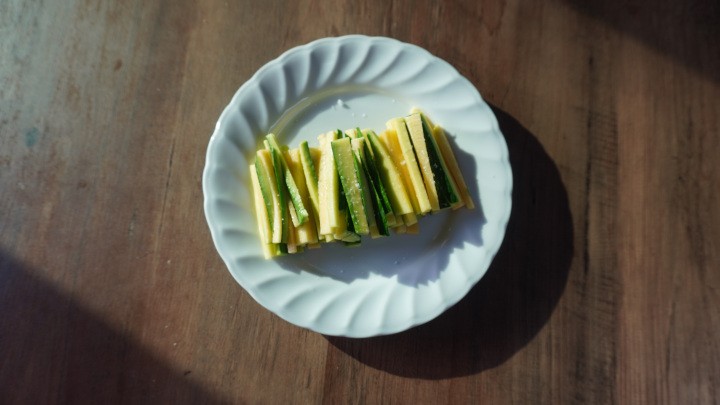 Slice other ingredients as thin as possible. Keep them at a similar length.
In a bowl add every ingredient for the sauce and mix them well.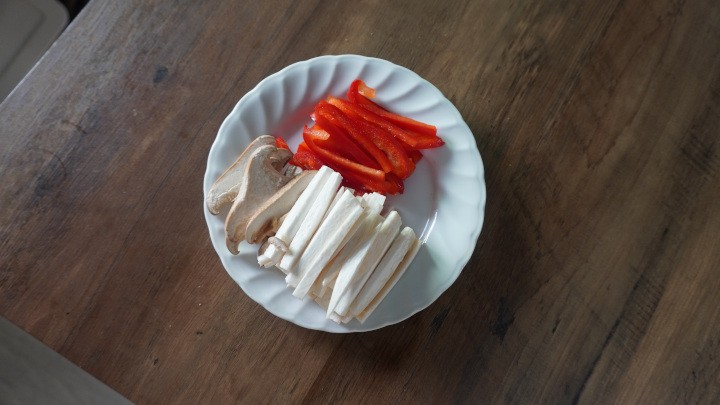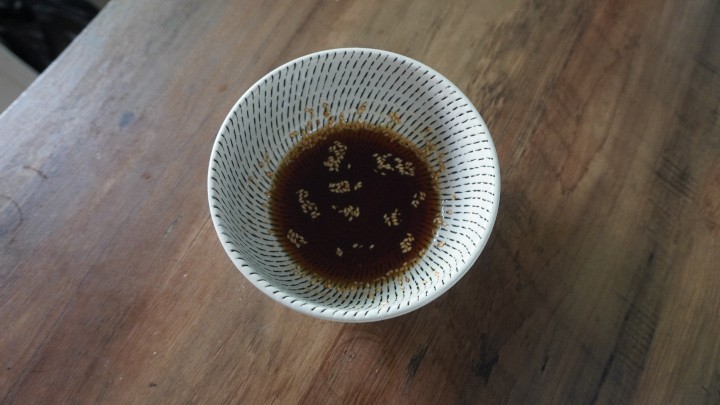 Heat a pan in high heat and add 1 tsp of perilla oil and fry the tofu.
Once one side of tofu is golden and crispy, flip them and fry the other side. And set aside to cool down.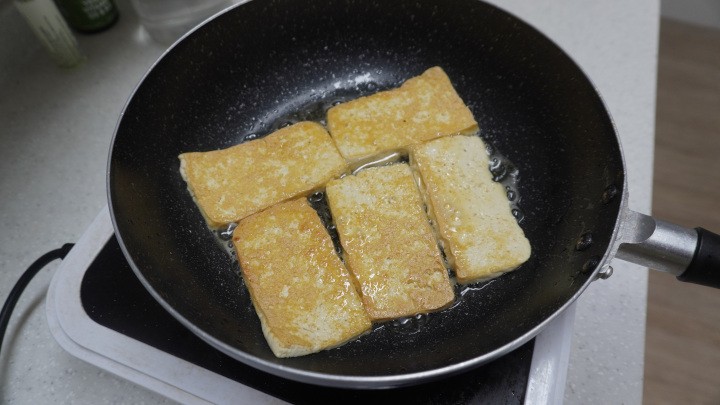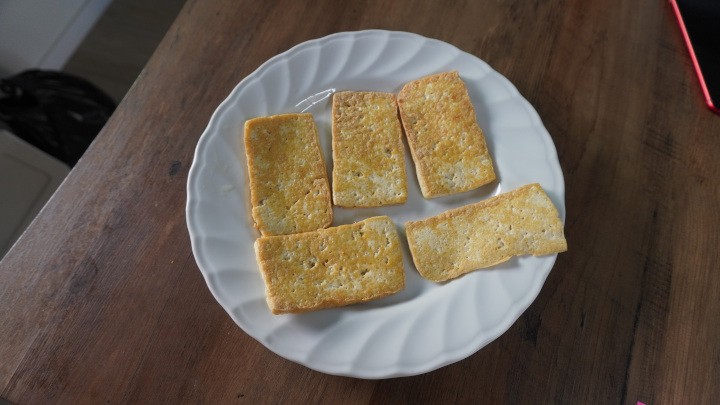 Add the thinly sliced oyster mushroom in the pan and half of the sauce you made and fry it in the high heat until it absorbs the sauce and becomes crispy. Keep stirring them to prevent them from burning.
Do the same thing for the bell pepper and courgette but with ¼ of the sauce for each.
Lastly, slice the cool fried tofu thinly and fry them with the leftover sauce. Avoid stirring the tofu to keep its shape.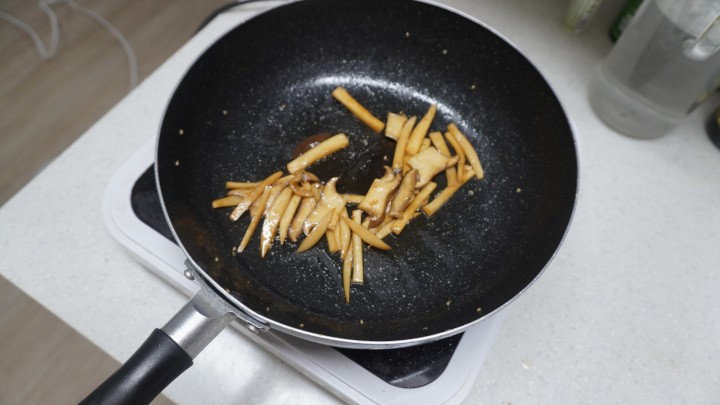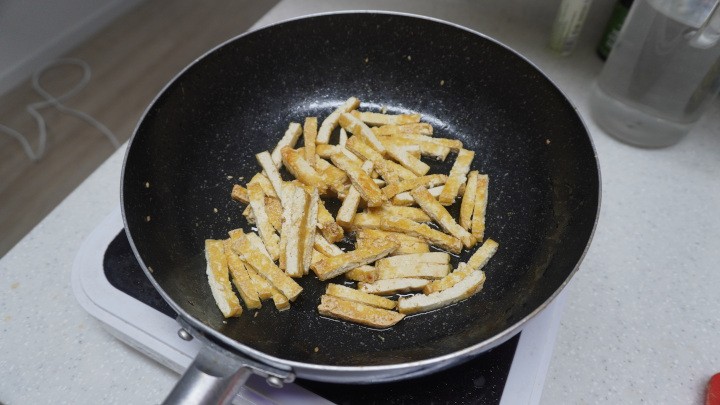 Now it is good to go! Place them on the plate nicely and enjoy your lovely tofu japchae ✨
Ingredients For the Sauce
Recipe
Slice the tofu in a square shape and 0.5cm thick.
Slice the courgette as thin as possible.Place kitchen towels on the two plates and put the sliced tofu and courgette separately. Sprinkle a pinch of salt on both and keep for 10 minutes to remove the water.
Slice other ingredients as thin as possible. Keep them at a similar length.
In a bowl add every ingredient for the sauce and mix them well.
Heat a pan in high heat and add 1 tsp of perilla oil and fry the tofu.
Once one side of tofu is golden and crispy, flip them and fry the other side. And keep them aside to cool down.
Add the thinly sliced oyster mushroom in the pan and half of the sauce you made and fry it in the high heat until it absorbs the sauce and becomes crispy. Keep stirring them to prevent them from burning.
Do the same thing for the bell pepper and courgette but with ¼ of the sauce for each.
Lastly, slice the cool fried tofu thinly and fry them with the leftover sauce. Avoid stirring the tofu to keep its shape.
Now it is good to go! Place them on the plate nicely and enjoy your lovely tofu japchae ✨