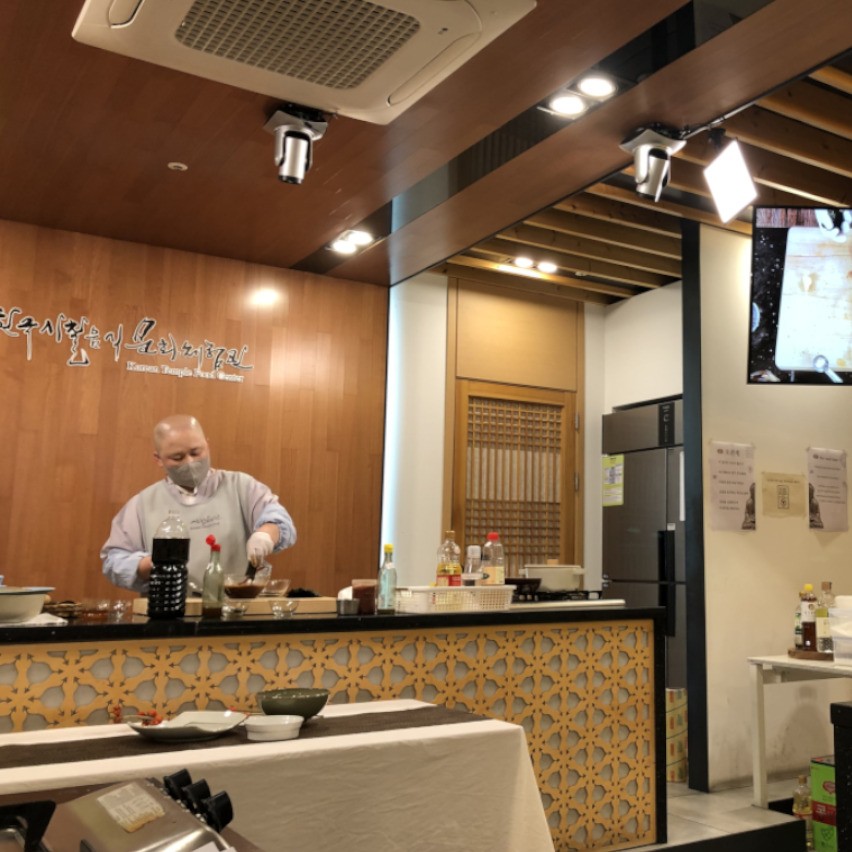 Korean Temple Food Cooking Class – 한국 사찰음식 클래스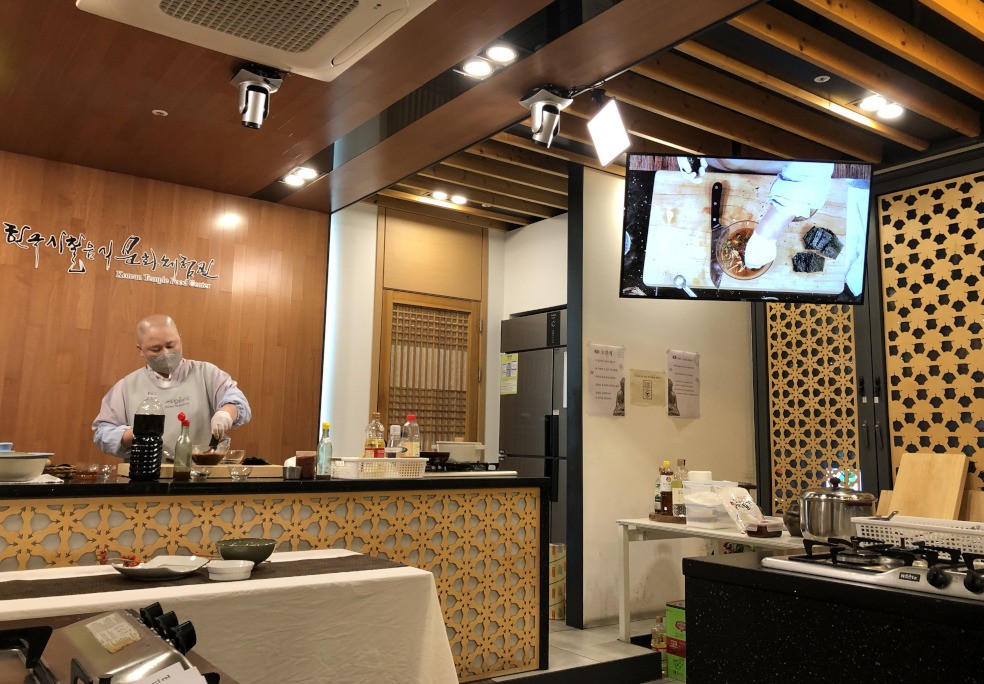 At the end of March 2022, I left my full-time job and started working as a freelancer. As I can work more flexibly I decided to spend more time on The Little Veggie Korean. So the first thing I did was look for vegan cooking classes. It has always been so joyful to cook nice vegan foods and share the recipes but I have also had a mind to improve and develop my cooking skill. I have considered some courses such as Macrobiotics(마크로바이오틱) or baking. But I asked myself what is the food that gives me so much joy? And what would be the most valuable experience for me to spend my limited time? And the answer was this – "Korean Temple Food " ◡̈ ♥.
So from April to May for two months I joined Korean temple food cooking classes. And for those who are interested in Korean food or temple food, I am sharing my experience of learning Korean temple food cooking.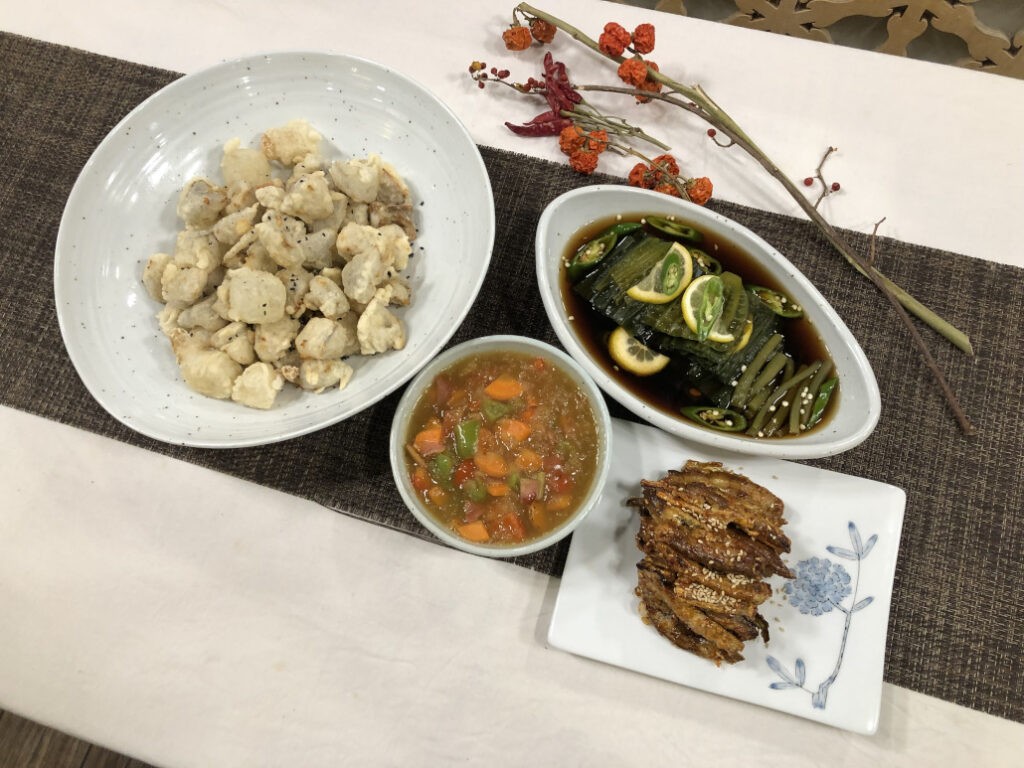 What is Korean Temple Food?
Temple food refers to the food eaten daily at Buddhist temples. At Buddhist temples, everything is considered a part of practice. From growing vegetables to preparing the food, monks and nuns are directly involved in the whole process. Monastic practitioners make it a point to always be grateful for the efforts of all those involved in the preparation of food. They take only the amount need for their physical sustenance, leaving no leftover food in their bowls. This distinctive approach to food preparation has been gradually shaped over many centuries, based on a foundation of Buddhist philosophy and practice. Temple food is natural, healthy and also a part of Buddhist life. Even today the 1700 – year – old tradition is alive at Korean Buddhist temples. – by Korean Temple Food Centre.

The institute of Korean Temple Cuisine
This explains Buddhist cuisine in general. Temple food is not just a meal that fills our stomach, it is a part of the mindful practice in our daily lives and it is the nutritious energy source for keeping our body healthy and our minds clear. There are a few more aspects of Korean temple food. Let's dive into them.
1. Ohshinchae(오신채): The Five Forbidden Pungent Herbs.
Once I have explained what is Ohsinechae(오신채) in the recipe for "Tofu Japchae". In Buddhist temples, these five pungent herbs are forbidden to cook and eat. These five herbs are garlic(마늘), spring onion or leek(파), chive(부추), dalae – Korean wild chive(달래) and Asafoetida(흥거)- In Korea temple onion(양파) is also forbidden.- These pungent herbs are known for disturbing mindful practices by inciting people to anger and disputes and by increasing sexual desire.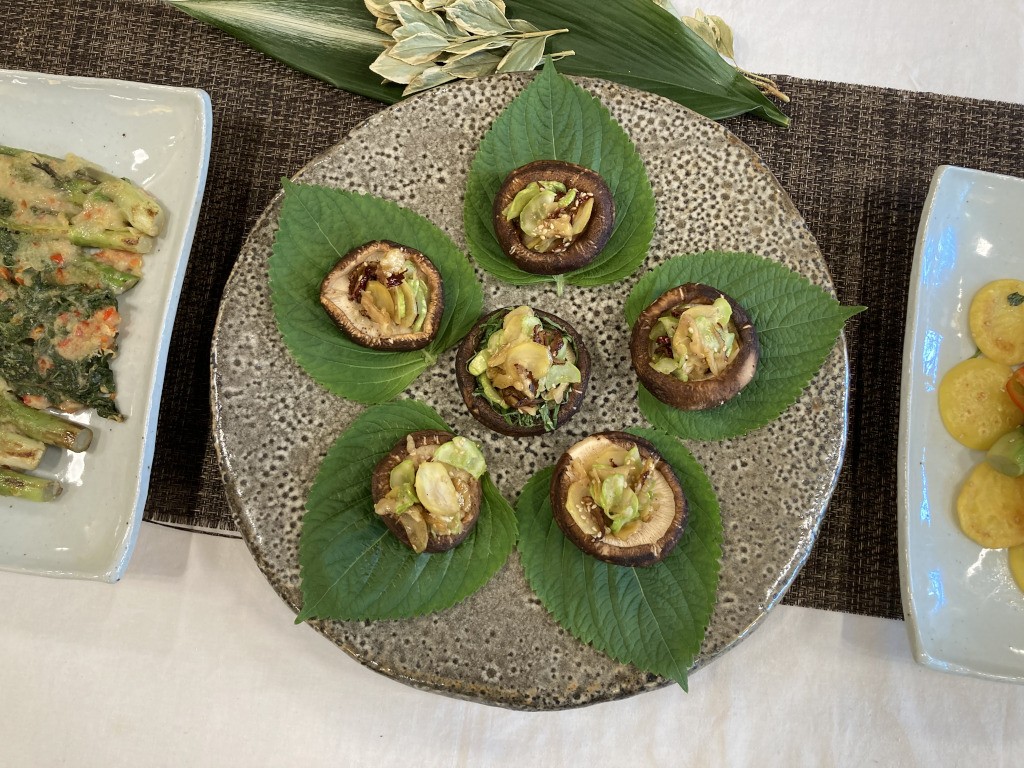 2. Natural Condiments.
In Korean temple food, they use natural seasoning. Shiitake mushroom powder, kelp powder or perilla seed are very commonly used for many temple dishes.
3. Storing Foods.
Korean winter has been brutally cold. During the season, it was always not possible to find fresh vegetables in the past. So naturally, our ancestors have developed ways of storing foods so that they could eat in different seasons. The most common ways are such as pickling or drying vegetables and making kimchi. And these foods are still commonly cooked for Korean temples.
4. Fermented Foods.
Fermented foods, especially Kimchi, are the most well-known and typical characteristics of Korean cuisine. Fermentation brings the deeper flavours of the ingredients and it is also well-known for many health benefits like anticancer effects. In most Korean Buddhist temples, they make soy sauce – Ganjang, soybean paste – Doenjang, and red chilli paste – Gochujang on their own.
5. Organic, Seasonal and Vegan foods.
Organic and seasonal vegetables and herbs are used for Korean temple food. Each season, they cook different dishes with seasonal ingredients. And the seasonal ingredients serve the right nutrition that our bodies need during the season. And Korean temple foods are vegan. Buddhist practitioners don't harm living beings ◡̈ 🤍.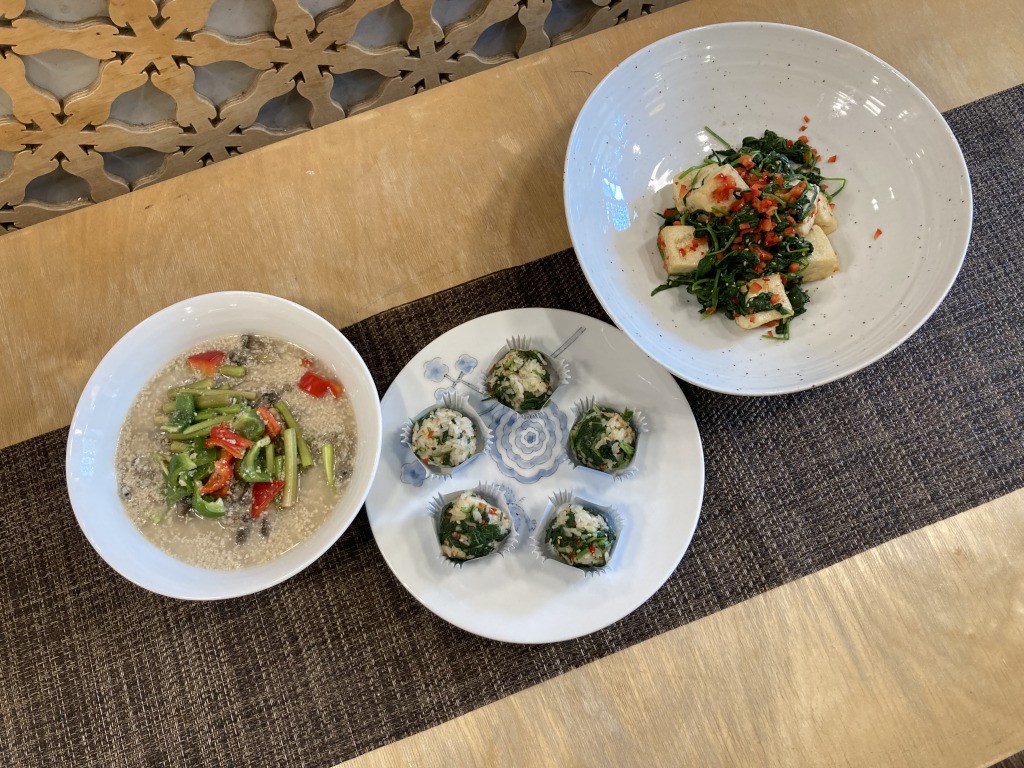 6. Do not waste food.
As I have mentioned earlier, cooking and eating temple food is a part of mindful practices. Cooking and eating in moderation are important in Korean Buddhism so they always try not to waste any food.
The Institute of Korean Temple Cuisine – 'Hyangjeoksegye (향적세계)'
I took my temple food class at the Institute of Korean Temple Cusine – 'Hyangjeoksegye (향적세계)'. Here are the reasons why I chose their class:
Firstly the location is very accessible. The Korean temple food centre is near exit no.1 of Anguk station which is the centre of Seoul.
Secondly, the price of the cooking class is REALLY affordable. Hyangjeoksegye(향적세계) is non-profit organisation. So at a very affordable price, you can learn about Korean temple foods and take the foods you have cooked during the class back home. The price varies for each class.
Lastly, they have various options for the class. They have monthly, one-day or seasonal classes and special classes such as making vegan Kimchi class. And for the English speakers, they also have English classes every Saturday.
You can find out more details on their website such as what kind of foods you will be cooking, the price of classes or instructor information e.t.c. Check out their website here ◡̈ 🤍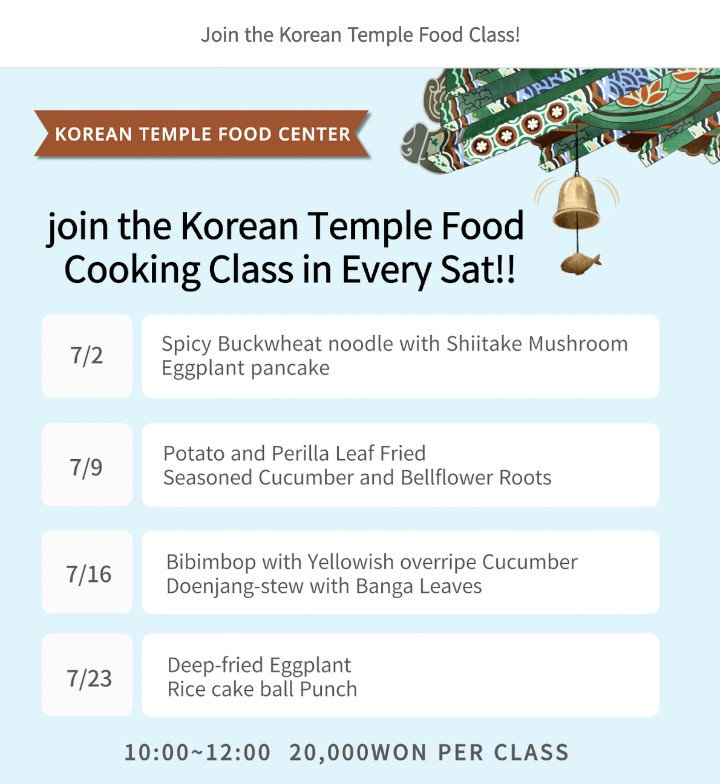 The Temple Food Cooking Class – 한국 사찰음식 클래스
In each class, there was a Sunim (Sunim refers to a Buddhist monk or nun in Korean) as an instructor of the class, an assistant of her and about 16 students. 16 students made a group of 4 people and cooked together.
The class takes about 2 hours. The first half of the class is used for learning the theory of foods and demonstrations. In my class each day we learned about 3 different dishes. And the rest is used for students cooking. Every ingredient, cooking equipment, recipes and aprons are provided. What you need to prepare for the class are one or two kitchen towels for tidying up after the class, food containers for the food you cook during the class and a pencil if you want to make a note.
The class style varies by each Sunim. My very first class was run by Seong-gyeon Sunim and the second class was by Yeogeo Sunim. Seong-gyeon Sunim was very enthusiastic about teaching the theory along with demonstrations. She taught us very detailed information about the nutrition of ingredients and Yin, Yang and the five elements.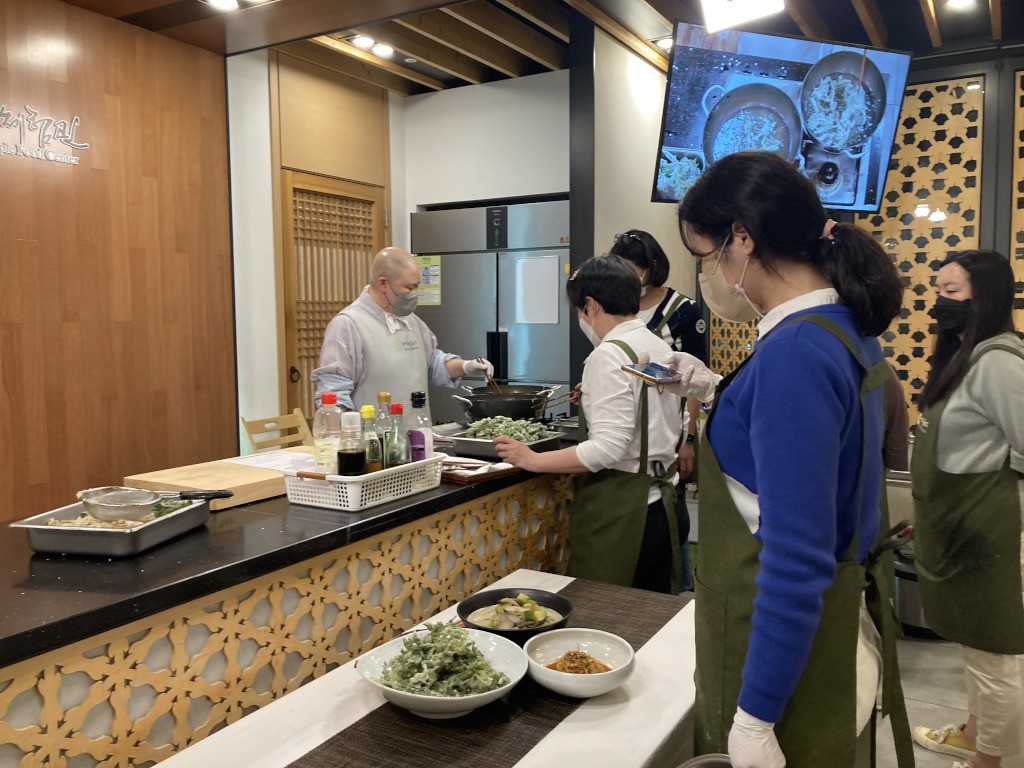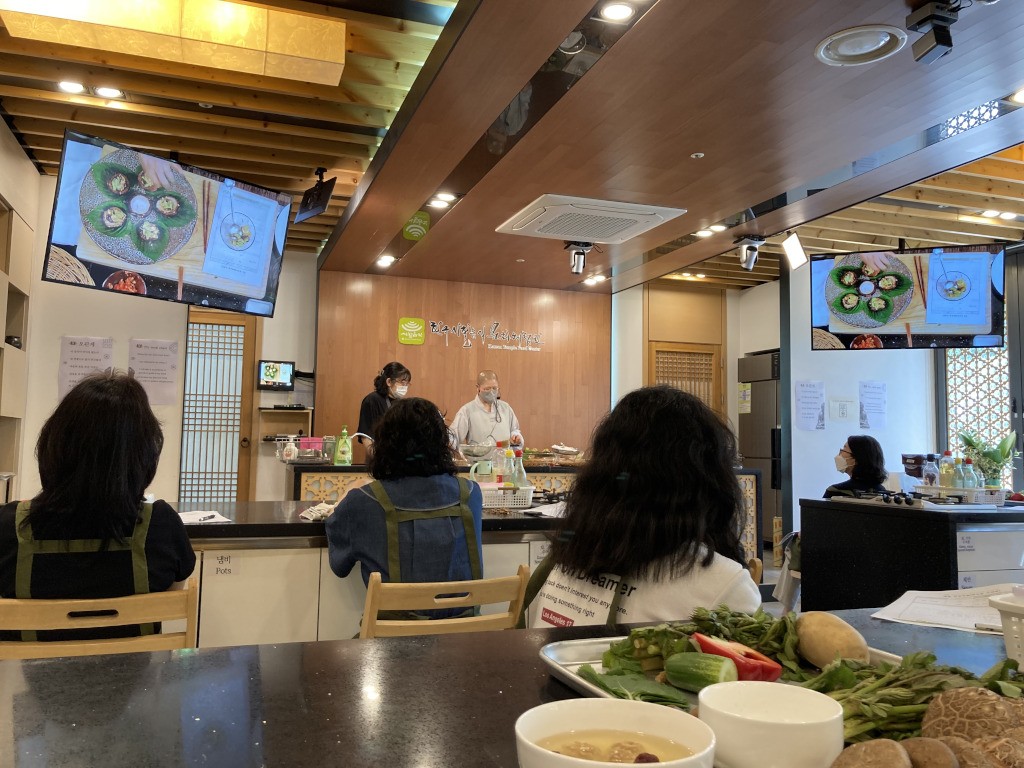 Pre-meal Chant – Ogwange(오관게)
In Buddhism, the action of eating is a part of mindful practice. So before they eat food, they chant this pre-meal chant Ogwange.
Where has this food come from?
I am ashamed to be eating it.
I will take it as medicine to get rid of greed in my mind
and to keep my physical being
in order to achieve enlightenment.

Ogwange
Ogwanga is a reminder of the five things the practitioners should think about before they eat the food. Thinking about where the food comes from and how many people were involved in this food can help to feel gratitude. I will write a more detailed post about Ogwange next time ◡̈ 🤍.
What I have learned from the Korean temple food class.
One day during the class, Seong-gyeon Sumin said that it is important to use as few condiments or seasonings as possible to preserve the original taste of vegetables. As she said, the condiments we used for the classes were very minimal. These were homemade soy sauce, rice syrup, salt, sugar, perilla oils e.t.c. And always the most important role of the day was for the organic seasonal vegetables.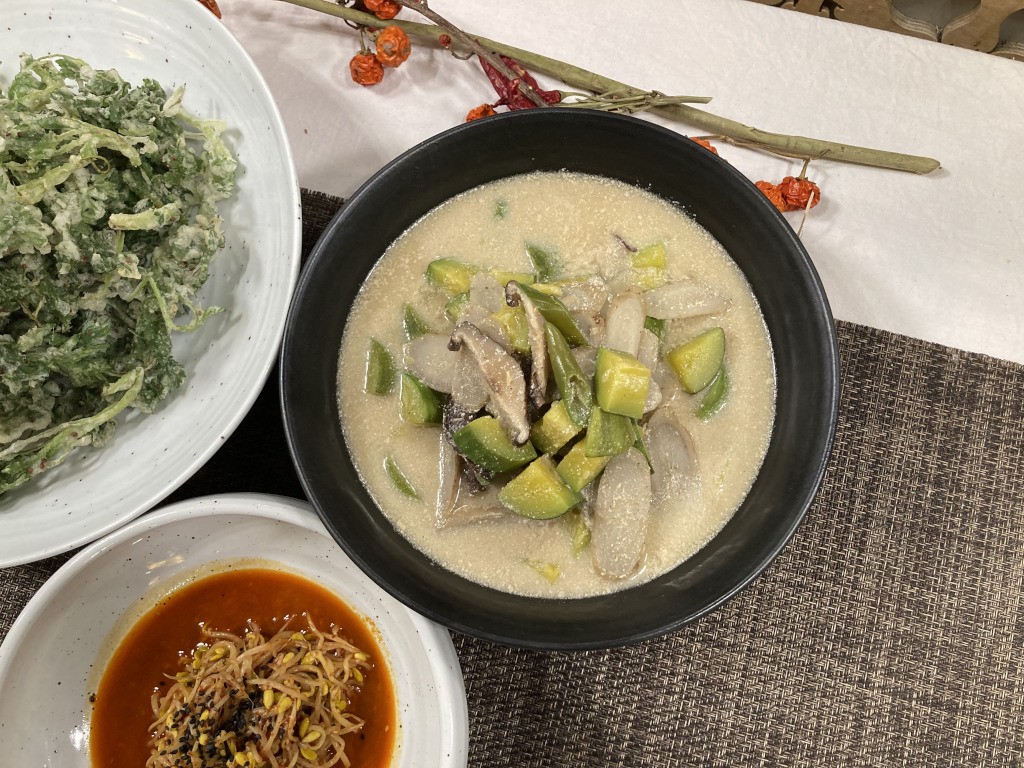 It made me think of my kitchen shelves full of species and seasonings from all around the world. I learned the fact that I can cook delicious temple foods with very basic condiments if I have the right vegetables.
Also, I tended to cook the dish that I am familiar with. However, since the course covers a variety of dishes each day – usually three dishes a day- I was able to explore many vegetables and herbs that I haven't even tried before. Learning how to prepare, cook and the nutrition of new vegetables and herbs was very fun and really helpful for me to understand not just temple food, but Korean food in general.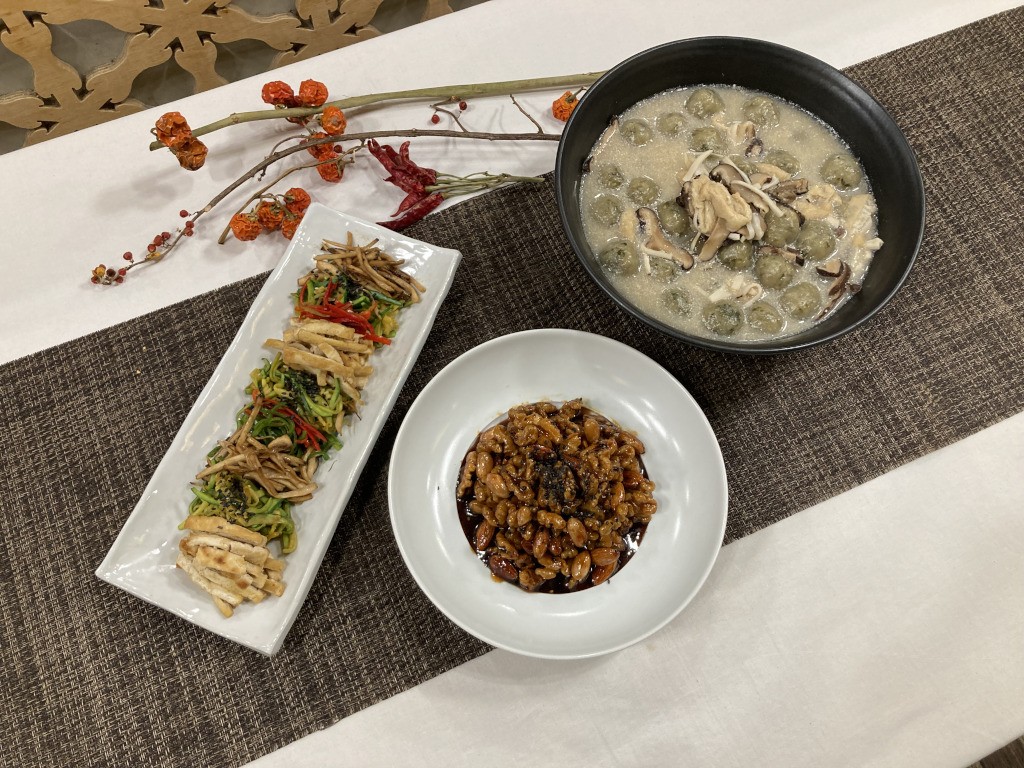 I have really enjoyed this Korean temple food cooking class. If you are interested in Korean temple food or just looking for a fun activity in Seoul, I recommend trying their class ◡̈ 🤍.